Eleanor Bogart-Stuart staff writer
Sydney Tran staff writer
The final bell's ring on Friday signifies the beginning of the weekend and the departure from a week at school. But for three rabbis-in-training, the final Friday bell symbolizes the start of fun.
Although students may not know them by name, they can probably recognize Yossi Klein, Benjy Warmflash, Dovid Goldberg and Ezra Wiemer by their faces. These 21 and 22-year-old men set up a humble table opposite the Swim Gym every Friday, complete with a small prayer book and a long, black cloth. Though their methods may not be conventional, they simply come to spread a little bit of joy and education about their faith.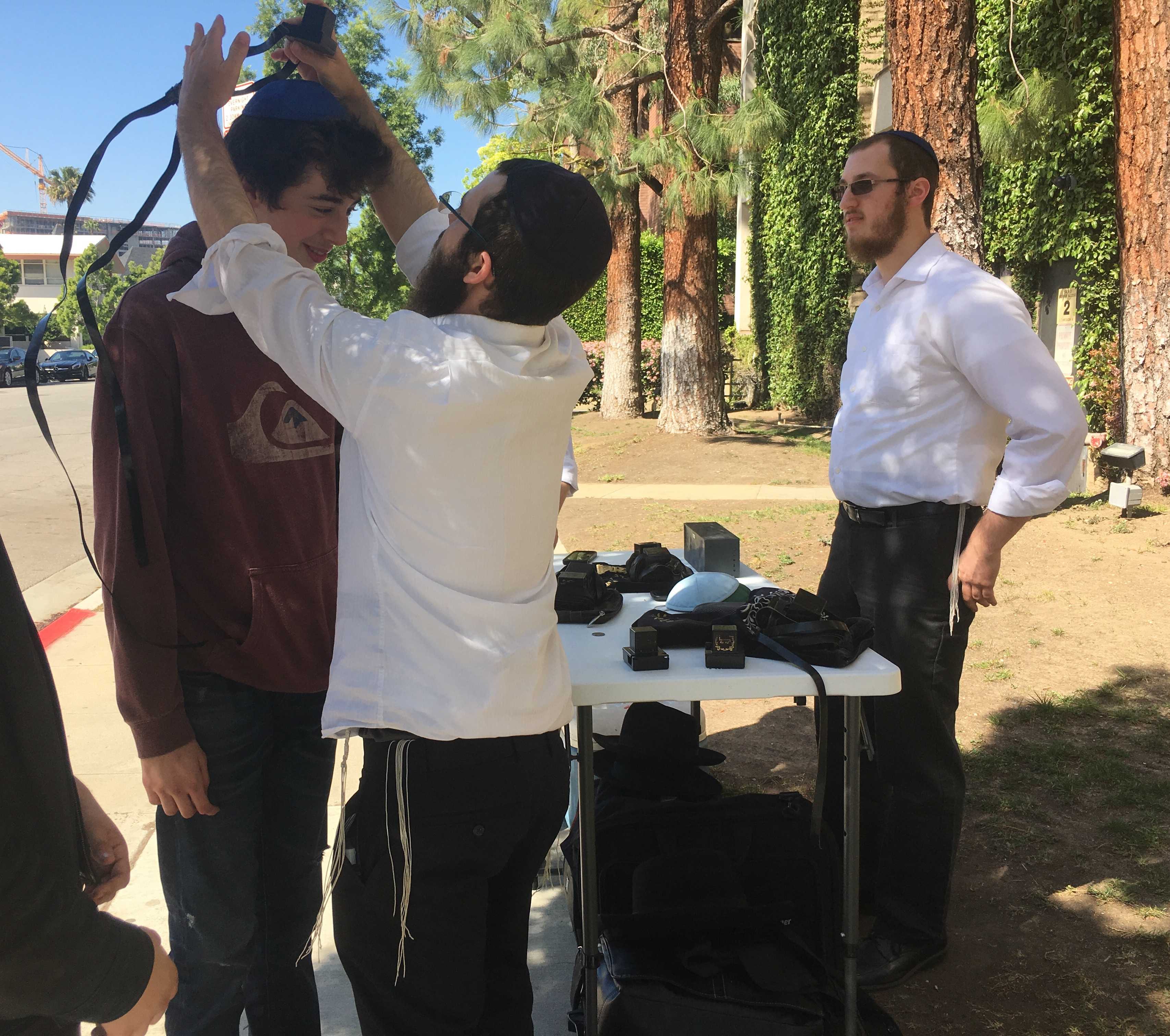 "Our goal is just to, you know, we're running around all day, we're busy all the time, so it's important that sometimes we stop and we focus and say, 'What's my purpose? What am I doing here?' When we do that it allows us to be kind to other people," Klein said.
Klein and his fellow apprentice rabbis are dedicated not only to the spreading of knowledge about their faith, but also kindness in general. They welcome students to take part in a Jewish ritual known as the Tefillin, where the aforementioned black leather is wrapped around the participant's arm and Jewish prayers are recited.
"We do this ritual to spread our message to everyone. This general idea of just stopping once in awhile in the middle of your crazy life, thinking about purpose and then becoming a better person. That's what our goal is, and I hope that happens," Klein said.
The three men are currently in training to become rabbis at an international organization called Chabad. The three are in their seventh and eighth years of training and will become full-fledged rabbis in three months.
"Chabad has a big emphasis on outreach, which is reaching out to everyone in the whole world. You name a place and they'll have it there. That's why even though we're studying and we're busy all week, we do put the emphasis on trying to go out and spread the message to the world," Klein said.
By coming to Beverly, Klein and his peers are not only applying their studies to real life, but tapping into the "energy" of the next generation.
"[High schoolers] are the future. We like the energy. We like power of young energy," Klein said. "They've got this fire, and we want to tap into that and use that fire and energy that we can take so far."
This "fiery energy" is evident in student participants' views of these men.
"I think it's great that they're there for people who have a religious and spiritual experience with it," participant Ben Dashad said.
In fact, the late leader of Chabad, Menachem Mendel Schneerson, taught the potential of teens and youth.
"He passed away 20 years ago, but his influence is very powerful. This was his vision. He always emphasized the positive side of teens," Klein said.
There are many misconceptions about these men and their mission. Though they may be mistaken to be missionaries who wish to convert others to Judaism. That is far from the truth.
"We're not trying to bring anyone to any religion at all. If you're Jewish, we want to give you the opportunity to do what your Judaism is. If you're not Jewish, we want to just spread this universal truth of everyone being together and united and one," Klein said. "We're not trying to bring anyone to any religion or make anyone change their religious beliefs or what they're brought up with. We respect everyone's religion. We're absolutely not missionaries."
If you ever have the desire to wrap the Tefillin or just simply find out a few facts about the Jewish faith, you can find them almost any Friday, waiting and willing with spread arms, wide smiles and open prayer books.
"There's a lot of darkness in the world and the way to fight darkness is by adding more light," Klein said. "One good deed can change the world."
Story continues below advertisement