Israel, Gaza viewed from a different perspective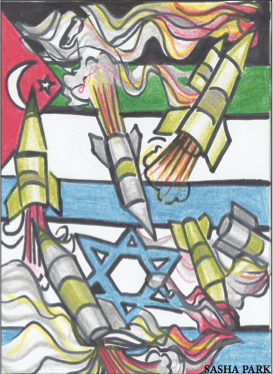 Arman Zadeh, sports editor
From Nov. 30 print edition
After eight days of reciprocating missile firing between Israel and Hamas, the two have agreed to a cease-fire. Both claim a victory for themselves, but more importantly, for the people.
This is the most violent assault between Israel and Gaza in years, making it clear that tensions are now running at an all time high.
Despite the recently implemented ceasefire, violence continued to erupt on the Israel Gaza border as Israeli troops were forced to fire on a crowd of Gazans moving towards the border on Friday. Although there was one fatality, the newly born cease-fire remained in place.
In 2008, the last time Israel and Gaza were at war, over 1,000 Palestinians and Israelis died as a result of heavy bombardment and rocket fire from both sides. Since then, Israel has withdrawn from the Gaza Strip. It seems that the hostility between Israel and Gaza is not coming to an end soon. With shifting attitudes on both sides, the future is unpredictable. But more important than the dispute over power in the area are the crimes on humanity. Over the years, both sides have lost civilian lives in acts of violence. By Nov. 18 alone, the week's civilian death toll had risen to over 70. The targeting of civilians by the military is disgusting and should be removed from the "game plan" of both nations' armies.
It is obvious that war is not pretty to begin with. Its very definition is politics in the form of violence. But, in this day and age, these countries cannot commit such obvious crimes against humanity every day and get away with it. Just as SS generals and officers were punished for their war crimes, the people responsible for today's massacres must be brought to justice. Charges against Israel and Gaza are currently in place, but they are not enough to describe the unsung stories of those injured. In one article on globalresearch. org, writers told the story of a young boy, Mahmoud, whose family fell victim to an Israeli strike. In a testimony, one of the witnesses spoke on behalf of Mahmoud, recalling how he was "displaying maturity beyond his young age. Mahmoud related the terrifying ordeal he and his family underwent during the January 2009 attacks. The soldiers, while shooting randomly at the family, shot his 4-year-old brother twice in the chest and once in the head and four of his other brothers in their legs and behind the ear."
Granted, the belief that only volunteers put their lives at risk, not the civilians, is an American one. But as an example to the rest of the world, shouldn't we be putting more focus on urging a diplomatic solution for these countries once and for all?