Batcheller's passion for surfing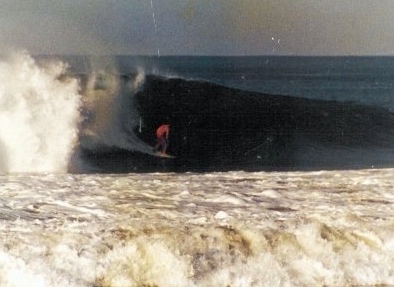 Nathan Daneshrad, cub writer
English teacher Paul Batcheller is known for his kindness, teaching and his surfing.  Batcheller knows how busy he is with teaching, but also manages his time well enough to be a surfer.
Batcheller has been surfing since he was 12 years old.
"A family friend and my uncles who surfed inspired me to be a surfer, " Batcheller said.
He tries to surf during the times that he doesn't have work or when his son goes down to surf.
Batcheller usually surfs in Manhattan Beach or Palos Verdes. When he wants to go surf, he goes longboarding. Longboarding is meant for going on high waves that are more powerful than shorter waves.
"Surfing isn't just a sport to me, it's my passion," Batcheller said.
Technology makes it easy for Batcheller to decide when he is going to surf.
"The internet has made it a little bit easier because storms create waves and storms are predictable and there are forecasts for waves, but they are more than just waves, there's wind and tides," Batcheller said.
Batcheller enjoys surfing with his son when he's not working. His son surfs more that he does, sometimes going before school.
Daniel Yeroshalmi said, "It's cool to have have a teacher surf on his free time because I never had a teacher who surfed before."
Batcheller has never left the country for surfing competitions; he just surfs for fun.  that the biggest wave he has been on was in February of 1998 in Ventura Overhead. The wave was about 30 feet.
Even though Batcheller does not compete, his son does, and has been surfing since he was four.
"It really brings us a lot closer, because we both surf at the same level and its just really lucky that we both surf," Batcheller said.