Students' donate hair for cancer patients
Celine Hakimianpour, staff writer
Aurora Hamner and Audrey Park, cub writers, photographers
[slideshow_deploy id='6499′]
Service Learning teamed up with the Pantene Beautiful Lengths organization for the sixth time on May 22 on the front lawn as 18 students donated their hair. The event gave students the opportunity to not only donate eight inches of their hair, but also help cancer patients feel beautiful in their own skin.
Beautiful Lengths is a partnership between Pantene and the American Cancer Society, the largest non-profit health organization which is committed to improving the quality of life of people facing every type of cancer. The Pantene Beautiful Lengths charity aspires to help women grow long, strong, beautiful hair and provide the funds needed to turn donated hair into wigs for women afflicted with cancer.
Beverly has hosted this event six times so far, and members of Service Learning feel that it gives students a chance to connect with people fighting cancer.
"I feel that it is a good idea to make this opportunity available to the students at our school because if we didn't, not as many people would think of doing it on their own time, but they feel great after doing it with the support of their peers," senior Chanel Taghdis said. "Even the students benefit because if they do not have the time to participate in community service as much as they would like, [the students] have the opportunity to help someone simply by donating hair."
Donations required at least eight inches of non-dyed and non-bleached hair per student. The hair must have also been under 5 percent naturally gray.
"Our hope is to have students learn and observe the selfless act [of donating]. We know how attached people can be to their hair, but there are some people with cancer who don't have any," Service Learning Advisor Michelle Halimi said.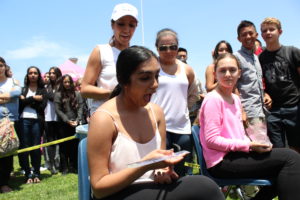 Junior Claudia Dayani, who donated her hair last this year and the last feels optimistic about her decision and believes the charity is a great opportunity to help patients in need.
"I think this is the greatest event hosted by Service Learning. I was so happy with my decision of donating my hair for the second time around. It really makes you appreciate the little things in life, and if I can make someone's life better just by donating my hair, I would do it all over again,"  Dayani said. "Donating my hair made me feel better as a person and was a great learning experience for me as well. I encourage everyone interested to donate because you can help someone out there feel beautiful again, and that's what really matters in the long run.
Another student who donated her hair, Junior Leora Hakim, felt accomplished after donating her hair to cancer patients.
"When I first joined Service Learning I made it my goal to head the event and donate my hair.You need to take a step back and realize that there are women out there who are fighting for their lives," Hakim said. "The least I could do is donate my hair just to give back to the women who have lost theirs. I want to rebuild [the cancer patients'] self-esteems."
According to the Pantene Beautiful Lengths program, Pantene has donated 24,000 free real-hair wigs to the American Cancer Society's wig banks, which distribute wigs to cancer patients across the country.