Pariss Chami cub writer
Kate Oller cub writer
Anabel Serra cub writer
Shayda Dadvand cub writer
Story continues below advertisement
Sophomore Piper Johnson first visited a psychiatrist when she was 12 years old, where she was diagnosed with depression and anxiety. At the time, she didn't even know what those terms really meant.
"They were just names for what was already happening to me," Johnson said.
Johnson started showing signs of mental health issues when she was 10 years old.
"I was anxious pretty much all the time, and I wasn't enjoying a lot of the stuff I used to," Johnson said. "But I didn't know all the specifics of why I was feeling the way I was. [Later on, the diagnosis] verified that I wasn't crazy or making things up, which was pretty validating."
Johnson's mother had first seen the signs of a potential disorder. She stuck by Johnson's side through the psychiatrist visits, therapy sessions, and hard days in general.
"She's good at handling mental health-related issues," Johnson said. "It depends on the situation, but she comforts me or offers me suggestions on how to fix a problem. Sometimes it's just her being there that helps."
Johnson's father, on the other hand, is less involved in her mental health.
"He dismisses a lot of [my mental health issues]," Johnson said. "Often when I say something to him about my depression or anxiety, he'll say 'yeah, whatever.' If I didn't have my mom with me, [my mental health] would be really bad."
Even though Johnson has her mother by her side, she believes having a "more understanding father" significantly benefits mental health.
Johnson said, "I think if I had a more supporting father figure from a younger age, I would have been at a better point now than I currently am."
While Johnson openly shares about her struggles, other teenagers choose to stay quiet.
"I internalize all of my problems," freshman Bao Dang said. "The thing with mental health is that it's not always visible. It's hard to realize a kid has mental health [issues] when they've never asked or shown signs of needing help."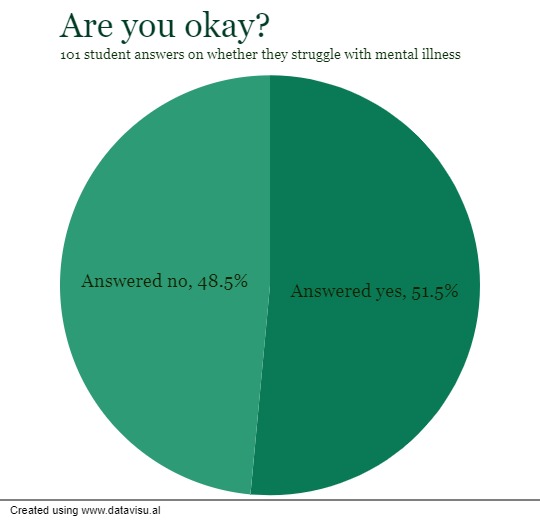 According to the American Psychological Association (APA), teens and kids tend to keep their problems inside rather than speak to adults about them, and students may not even realize help is available.
"From what I have seen, most kids don't talk to an adult. I think it's because they don't trust adults as much. Other kids might find hobbies or sports to relieve any stress they have," Dang said.
Some teens say that "having friends" gives them the support they need, inside and outside of school.
"You can communicate your problems to them and vice versa," Dang said.
Students have access to the NormanAid Wellness Center, designed to console them, communicate with them, and provide a caring environment.
What does NormanAid do?
Teachers create safe spaces
Room S305 is filled with the sounds of birds chirping. Several plants sit by the windows, and the smell of lemongrass fills each breath. Biology, engineering, and robotics teacher John Castle turned his room into an environment where he and his students can be at peace.
"It's important for [my students] to realize we all go through hard days," Castle said.
Since Castle's parents passed, he reminds himself to recollect himself when he needs to.
"There'll be moments where something will hit me while I'm working, and I have to take a minute to regain my composure," Castle said.
Castle uses meditation and exercise to keep himself present.
"You have to have stuff to look forward to. You find what makes you happy, and plan those things in your life, so you have things to look forward to," Castle said.
Castle also surrounds himself with positive people.
"It's hard to be around people who are always negative. You have to realize you can't be their savior," Castle said. "You can offer support, but in the long run, they'll pull you down. You have to surround yourself with people who are happy and healthy and look up to them as role models."
Spanish teacher Joseph Isaac, for example, always carries a smile. However, even Isaac struggles.
"I keep saying I have thicker skin. I have thick skin but even my skin is thinning at times," Isaac said.
Isaac lost his mother to cancer two years ago. Since then, there have been little things in his life that have changed, including his frequency in visiting his parents' house.
"When my mom was here with us, I was there almost all the time. But now that my mom is not home, it's hard for me to go see her and see the empty house," Isaac said.
But, Isaac "find[s] inner peace" in his kitchen, creating and trying new recipes.
"I occupied myself with cooking and baking. Even though I was not feeling well and I was really tired, I didn't let it get to me," Isaac said. "That's how you do it. You just cope. You channel the energy into something else."
While Isaac is able to occupy himself, he also acknowledges his vulnerability.
"I want to make sure that people understand that we're all human and vulnerable. But we don't have to dwell on it because we have to show our beautiful side," Isaac said. "We all have it. We all do. It goes through us all. We're all human. But we have to push it away."
Isaac pushed away from the negativity and found his passion for cooking/baking in the midst of his struggles.
"When you find out what your passion is, all your woes and your sadness are going to go away," Isaac said. "You found passion, and nobody else can take that away from you."