About
About
Highlights is Beverly Hills High School's student-run publication that strives to provide in-depth, reliable information to the community. We use all aspects of multimedia in order to engage our 21st-century audience. through unbiased, thorough research, we strive to fairly cover all groups on campus.
When it was first started in January of 2012, beverlyhighlights.com was organized by an additional class of eight ROP Desktop Publishing students. All content was contributed by members of this class, in addition to members of Advanced Journalism. Within its first six months on the web, beverlyhighlights.com was recognized as First Class, with two marks of distinction in both Coverage/Content and Design/Navigation, by the National Scholastic Press Association. As of August 2017, Highlights runs solely on a web platform. The website's content now comes from the Advanced Journalism class.
Staff
Highlights Editors

Candice Anvari
Co-editor-in-chief
Hi, I'm Candice! I'm a senior and this is my third year on staff. I am this year's co-editor-in-chief and I am so excited to work with our amazing staff this year! Aside from being on Highlights, I am Vice President of Urge to End and I tutor. In my free time, I go to dance class, read books, watch bad reality TV and spend time with friends and family. I'm looking forward to a great year!
Emma Newman
Co-editor-in-chief
Hi, I'm Emma! I'm a senior and this is my third year writing for Highlights. I am this year's co-editor-in-chief and I am thrilled to be able to write and edit alongside our amazing staff. Besides writing articles, I am president of the Young Democrats of Beverly, co-president of Model United Nations and campaign coordinator for Amnesty International. Outside of school, you can find me baking with my family, playing with my puppies, binge-watching Netflix shows and shopping with friends. I can't wait to see all of the incredible work from Highlights this year!

Managing Editor
Hi, I'm Defne! I am currently in my senior year. I am the managing editor this year. I cannot wait for yet another year with my Highlights family and continue creating exciting content on the site. Aside from my involvement as an editor and on staff: I spend a lot of my time being the group coordinator for Amnesty International, co-president for Model United Nations, and editor-in-chief for LitMag. Additionally, I have a podcast on Spotify called Halal Podcast about Muslim experiences. My favorite hobbies include film photography, boxing, and drawing.
Staff Writers
Ava Spina
Adviser
Gaby Doyle, CJE, MAE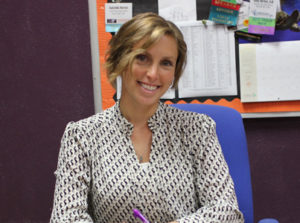 Gaby Doyle is in her 11th year of advising scholastic journalism. She began her career advising the Rambleback yearbook and the Rambler newspaper at South Gate High School. She has been advising print/web newspaper and yearbook at Beverly, in addition to teaching senior English.
She is also currently the web director for the Southern California JEA, and has presented numerous times at various local, state and national conventions and AdviserFests. In addition, she has judged write-offs at the National High School Journalism Convention, serving as both a lead judge and write-off chair, and critiqued for the NSPA.
She completed her graduate work in education and teaching credential at Pepperdine University in Malibu, California. While working on her Bachelor's Degree (sociology and studio art) at Pitzer College in Claremont, California, she studied abroad in London where she interned at X-Ray Magazine.
Ms. Herbst is a Beverly Hills High School alumna and was the 2001 editor-in-chief of Watchtower yearbook.