Arman Zadeh, sports editor 
Beverly graduate Pasha Farmanara (class of 2013) has always been passionate about journalism since his days as a staff writer on Highlights. The former online editor-in-chief of Highlights, now a student at Pace University in New York, recently accepted an internship at The Villager, a product of the NYC Community Media newspaper group.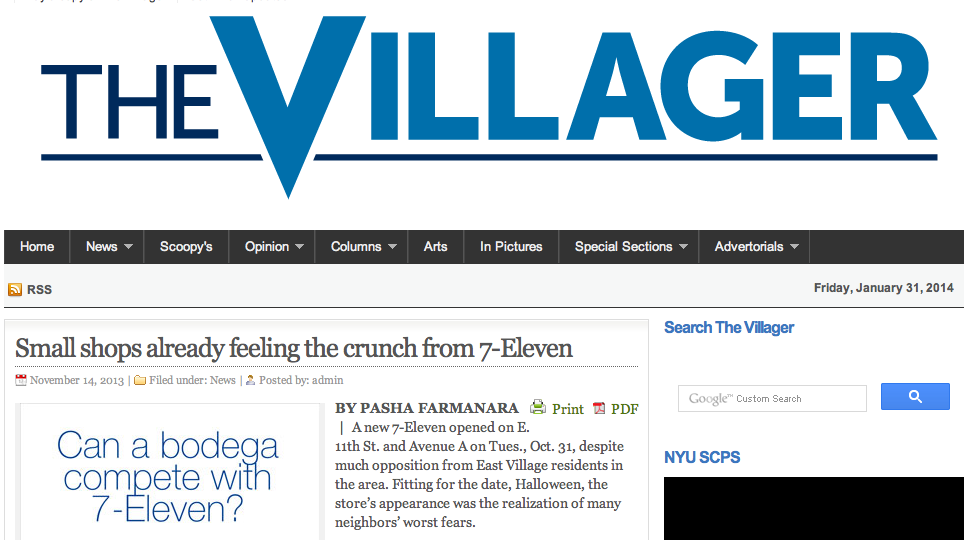 Since accepting his job at The Villager, Farmanara has covered stories such as the disputed opening of a local 7-Eleven, a car crash at a post office and a recreational group director driven through adversity by passion. Farmanara consistently writes two to four articles a week that make their way to The Villager's print and website. Even after weeks of writing for The Villager, Farmanara still feels awe every time he sees his name in the professional publication.
"I have trouble believing it every time I see my name on both the web and in print," Farmanara said. "I wasn't expecting to write for The Villager when I first got here. I thought I would be getting the writers coffee and filing old notes and articles, but they treated me like a staff writer from day one."
After getting pitched articles by his editors, Farmanara follows his journalistic instincts and travels across town to create well-written and informative articles.
"On my first day on the job my editor told me to take a train across town, interview random passers-by in front of the 7-Eleven and write a lengthy article all in a few hours. It was a proper introduction into the field of journalism," Farmanara said.
In an environment very different from the halls of Beverly, Farmanara continues to hone the skills he first acquired as a member of Highlights as he pursues beats in the street of East and West Villages.  Farmanara is grateful for the help he received from his adviser Gaby Herbst and the tough love he got from co-editor Robert Katz. Farmanara even used a portfolio he used for class credit to apply to his job at The Villager.
"Highlights was a tremendous help. I use the skills I learned every single day and impress my editors and co-workers all the time, being just an intern. Highlights gave me a complete journalistic skill-set that I will be able to apply at any job I will potentially have in the future, not just journalism." Farmanara said.
Now, gaining the field experience he craved, Farmanara writes sports and news articles and is currently developing a new tech column he calls "Mr. Tech Know." The internship, he says, is a test run for a potential career in the field of journalism.
"I have another seven semesters in college and I want to explore as many fields as I can," Farmanara said. "To me, that is what internships are for: getting real life experience."
Farmanara's former co-editor, current senior Robert Katz, has been inspired as he has watched Farmanara couple passion with action.
"It's really awesome to know that he's taking what he learned here and applying it to a larger and more involved context. I've been reading some of his articles; its not only great that he's moving forward with that, but that he's also a really awesome staff writer," Katz said. "I love him and I wish he could come back," he concluded sentimentally.
Right now, journalism is everything to Farmanara. "It's a potential career, a hobby and a civic duty" that he plans to continue as an eager member of The Villager.
Story continues below advertisement