Audrey Park, staff writer
The Normans defeated Hawthorne High School, 58-45, on Friday, Jan. 31 in a home contest.
The girls, who had previously lost to Hawthorne by 24 points, were led by junior Jessica Melamed's seven three-pointers, which tied a school record.
"I felt great," Melamed said. "I was in a zone."
The game began with a foul by Hawthorne on junior Natasha Allen, who sunk her shots. The team kept momentum and won the quarter, 14-9. While on her defensive, Allen was fouled by the opposing team and scored more points for Beverly.
"I had my defensive game. As long as some people score and other people get it done on the defense we're going to be fine," Allen said. "We had a lot of our players today so that helped, too."
Story continues below advertisement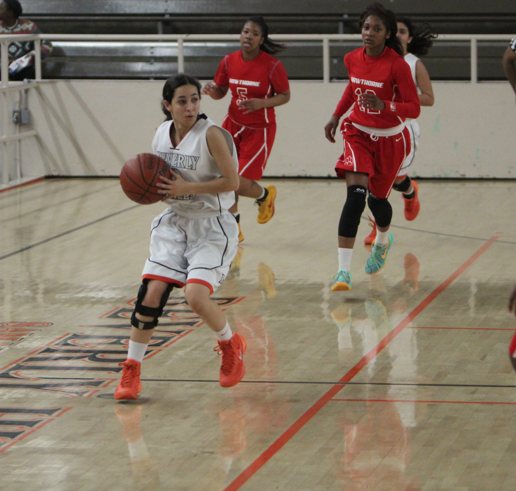 Melamed and senior Natasha Kashani, who Allen regards as "two of the team's best players," recovered from their injuries and were able to help bring home the win for the team.
With Beverly leading Hawthorne 30-20 at the start of the third quarter, the game was in Beverly's favor. The quarter began with senior Shantel Kahrobaee dishing the ball to Melamed for a three. However, Hawthorne fought hard and outscored Beverly by two points in the third quarter, decreasing the margin to nine points.
Although Hawthorne outscored Beverly, the team was determined to keep the game in their lead.
"We kept moving the ball and passing and everyone was putting all their effort, rebounds in," Kahrobaee said. "I think I did okay, but I had a couple mental breakdowns, but overall I think I did great."
The fourth quarter started, again, with a Melamed three-pointer. The Normans went on to score 16 points in the quarter, compared with Hawthorne's 11 points.
"I thought we did a lot better than last time, and being healthy helped," Kashani said. "[Melamed] drove the offense, and ultimately led us to a win."
The girls was able to pull out a victory, one that junior Asia Meadows notes was "key." Because the team had previously lost to Hawthorne by 23 points, Meadows was afraid that team be "the joke of league this year."
"We got some crucial blocks, rebounds and completed a couple of fast breaks. We've had an up- and-down season so far, but this win given us a bit of momentum," junior Asia Meadows said. "In order to make playoffs and, we need to step up our game, and that's what we did last night."
Assistant principal Dr. Regina Zurbano was impressed by and enjoyed the team's performance.
"Both teams were competitive, but Beverly came out strong," Zurbano said.
Zurbano expressed her concern about the lack of attendance at the contest.
"I just wish that more people would come out and support the girls team as they do for the boys team," she said.
The team's approach this season, according to coach John Braddell, is to "play hard every day and see what happens."
"We play hard. We strive to play good defense and get up and down the floor quickly; it's a fun type basketball," Braddell said. "We try to limit our turnovers as much as possible; that's what we preach."
The team will play against Morningside High School on Wednesday, Feb. 5 at 6 p.m. in the Swim Gym.