Alex Rohani breaking records on the track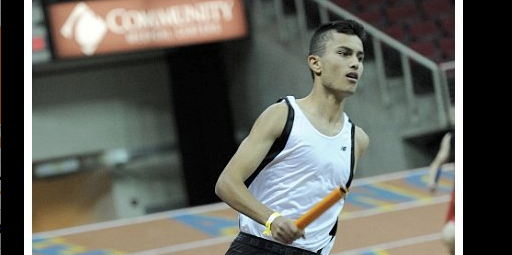 Pasha Farmanara, Web Editor-in-Chief
If you look through Beverly's record books, there will be one reoccurring name with staggering achievements. His name is Alex Rohani.
Last year Rohani had to make a choice to choose between basketball or track.
"Although I excelled at basketball, and made varsity my sophomore year, I decided to go with track. I let down my teammates, but looking back I think I made the right choice," Rohani said.

His choice has drastically changed his life for the better, by allowing him to concentrate on running, and perfecting his skill. Rohani chose track because he thought he had a potential future in the sport, and if he continues working as he has so far, the sky is the limit.
Rohani was also the hero in the league championship against Culver last season, "The greatest moment during my entire track career would be winning the 4×400 meter relay against Culver City. Whoever one the meet would become league champion. It all came down to whoever won the 4×400. I ran the anchor leg on the relay and I remember after winning the race the whole team went crazy and everyone stormed the track," Rohani said.
This season Rohani is setting high goals for himself, hoping to out do his impressive season last year.
"My goals for this upcoming season are to be state champion in the 400 meter dash and the 4×400 relay and win the state and CIF team title."
After his impressive season last year, Rohani has received letters from many prestigous colleges.
"I have gotten letters from UCLA, LSU, Ole Miss, Alabama, Miami, Louisville, Georgia, Utah State, Yale, Princeton, Columbia, Harvard, Brown, Army, Navy, Akron, and Lipscomb," Rohani said.
He has yet to choose his top schools, and says that he is interested in all of the schools.