Boys soccer loses to Culver City in final match of season
Audrey Park, staff writer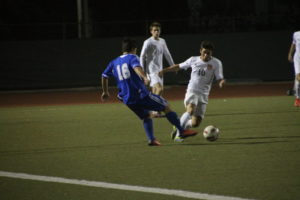 With only 4 minutes left in the game, the Culver City Centaurs scored its second goal, making it nearly impossible for Beverly to make a comeback. The game ended with a score of 2-0.
Boys varsity soccer competed against Culver City High School on Thursday, Feb. 3 at home. The first half of the game consisted of both teams aggressively tracking back and forth on defense and offense, and ended with the score at 0-0.
"There was a lot of passion, it was a lot of passion flying all over the place, and excitement," midfielder Miguel Ramirez said. "We were really pumped because it was senior day and I was really excited for all the seniors. I wanted us to win."
The second half of the game proved to be just as rough as the first. Both teams were yellow carded by the referee numerous times. The Centaurs scored their first goal at the 20 minute mark. The score seemed to have motivated the Normans to fight harder, for there were several close shots afterward.
"We made the best out of it and fought till the end," Ramirez said. "We focus on everything and were concentrated as we fought. We all backed each other up, and it was pretty much like a brawl fight."
Coach Steve Rappaport believes that the game was "typical" of the season. There were many opportunities to score a goal, or block a goal, but the Normans failed to achieve it because of mistakes.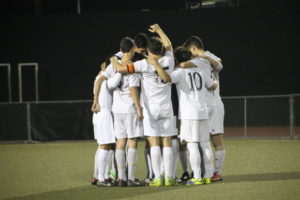 "We played really well for almost all of the game then we made a big mistake and gave up a goal and it cost us the game," Rappaport said. "I think the guys played hard, the seniors particularly really gave their best effort and we just beat ourselves with the mistake and we got beat by a very good team."
The game was a bittersweet one for many of the seniors, for it was their last game of their high school careers.
"I thought we were going to win the game," striker Matthew Mokhtarzadeh said. "It was fun, it was my last game of my high-school season and it was a tough game."
Although Rappaport is disappointed by the outcome of the game, he is proud of the "tremendous effort the boys put in to try and win."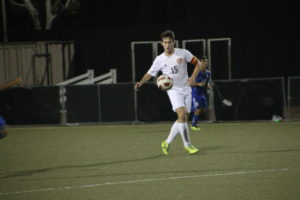 "I learned more about the character of the guys," Rappaport said."They were still fighting even when we had two to nothing at the end. If you have good character, regardless of the outcome and fight to the end, then you could go home, look yourself in the mirror, and feel real good about yourself."
Because the boys were already out of CIF playoffs, the game, according to Rappaport did not "mean much, other than to their pride."
The game against Culver City capped a season marked by injuries and tight contests for boys varsity soccer. They end with a record of 4-5-1 in league.