Audrey Park, staff writer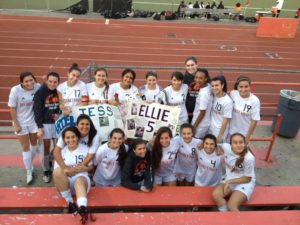 Girls varsity soccer lost to Culver City High School, 1-0, in an away game on Feb. 13. The loss terminates any chance of advancing into CIFs.
Before the game began, the players were anxious, as the contest was not one to be approached lightly.
"I felt pretty nervous, it's also my last game of high school so it was pretty nerve-wrecking. There were a lot of difficult emotions," senior Arielle Harris said.
 The first half of the game was highlighted by the defensive play of the Normans, as they stubbornly held the Centaurs scoreless.
"We were lucky in the first half and ended with a 0-0 tie. The other team was attacking but our defense was intact and we held them off," sophomore Carli Stein said.
The Centaurs scored the sole goal at the ten-minute mark of the second half. After this, the Norman defense was again formidable, not allowing another score. The offense, however, was unable to put points on the board.
"The toughest part of the game was the last 15 minutes because we were all exhausted and had to balance preventing them from scoring and trying to score ourselves," Stein said. "We had to dig deep and give all of our energy especially because we wanted to end the season giving it everything we had."
Although Stein was "exhausted," the thought of beating Culver, a rival, motivated her to fight for the entire match.
"I needed to keep pushing myself and try to score. I wanted to win so badly," Stein said. "I just kept imagining how good it would feel if we finally beat Culver and I used that as my incentive to keep pushing myself."
Overall, coach Justin Commins thought that, although it was a "tough battle, the game went well."
"1-0 games are always tough. We had a few chances that could have gone our way, but that's soccer. The luck doesn't go your way every time. The better team doesn't win every time," Commins said. "One thing I learned is that we need more fitness because there's a lot of running, and we asked our midfielders to trek back and forth on defense."
The game was a bittersweet game for the girls. Stein was glad to have had the opportunity to be a part of a "truly one-of-a-kind team that was bonded closely together," yet sad because it was her last game with the senior members.
"We came a long way this season and overcame all of our difficulties to become a great team," Stein said.
The match capped the girls varsity soccer season. They end the season with a 4-5-1 record in league.
Story continues below advertisement