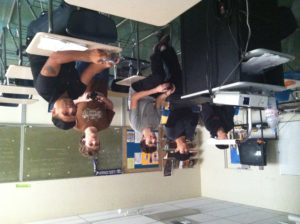 Robert Katz, web editor-in-chief
The Video Game Club will host a school-wide tournament featuring the Super Smash Bros. series of competitive video games on Friday, April 11. The tournament, held in rooms 283 and 285, will allow all students to play against each other for free in the original Nintendo 64 entry, as well as the Nintendo Gamecube's "Melee" and Nintendo Wii's "Brawl" editions.
KBEV Director Romeo Carey is supplying televisions for the event, which will be chaperoned by English teacher JC Marquez.
Senior and club vice president Jake Peskin primarily hopes that the event will pique students' interest in the social relevance of video games.
Story continues below advertisement
"I want to show everybody that video games can be a nice thing to bring people together," Peskin said. "Video games can be a fun competitive alternative to sports, but [I] mainly [want] to show people they can come together and have fun with video games."
The "Smash" series was chosen for its ubiquitousness among teenagers.
"Most guys I know have played ['Smash'] in their lives," Peskin said. "They enjoy it, they can relate [to] it."
Peskin specified that he also wants to open students up to the viability of games as both a spectator sport and a community activity.
"I wanted to make an environment where it's not only about playing the game, it's that their friends are competing with people that they might not even know. You can get to know people, but it's also about seeing your friends go up against some random dude. That can be fun to watch," Peskin said.
Club president Eden Aabodi wishes to see the tournament spark interest not only in games, but in the club itself.
"We are trying to gain more members," Aabodi said. "Hopefully those that come to compete will enjoy the experience and come to future meetings."
For newcomers to the "Smash" series who are interested in playing, Peskin has straightforward advice.
"Try your best," Peskin said. "Honestly, this school isn't big on competitive games, so you're probably going to be playing against someone who's also bad. If you're competing against someone who's done something before that you've never done in your life, it's going to be harder. I'm sure there are plenty of people who suck who are going to play for fun."
Although promotional materials are still being developed, the Video Game Club will expand on its advertising and available information in the coming weeks.