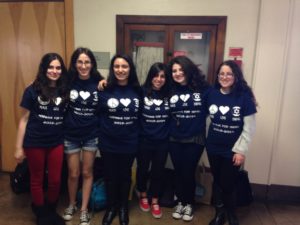 As seen in the Feb. 21 print edition.
Audrey Park, staff writer
Normans for Israel is currently planning on hosting its annual event with Israeli soldiers as guest speakers in order to increase awareness for the politics in Israel among Beverly students.
The plans for the event are still in the early stages and there is not a specific set date. According to club president, Daniella Hay, the club plans to hold the event by the end of February or in early March.
"The event brings awareness. It's good to have the soldiers come in so that students can physically see and hear their personal experience as opposed to just reading about it or hearing it from other people," Hay said. "It's also a good opportunity to ask the soldiers questions and get to know about them better."
The club's partnership with StandWithUs, a pro-Israel advocacy organization, enabled the club to host several meetings with various Israeli soldiers and EEl-Al personnel as guest speakers.
"Myself and my fellow board members for Normans for Israel constantly strive to encourage our fellow students to develop a deeper appreciation for our faith via coordinating multiple events with guest speakers, ranging from El Al personnel to enlisted soldiers," Treasurer Nicole Sayegh said. "The event will give students a human face to the stories they hear about on the news."
The club's main focus is to attract students, regardless of their background and beliefs, to attend the event.
"We're really trying to make it a big event and raise a lot of attention," Hay said. "We want to get the teachers to know about it so that we can really bring in students to attend the event during lunch."
Hay, who attended the event last year, was genuinely "intrigued and interested" by the stories of the soldier's personal experiences. She hopes to be able to share her interest and give Beverly an opportunity to learn more about Israel.
Hay believes that the event is the "highlight" the year. The club also plans to pass out T-shirts.
Club sponsor Julie Goler feels gratified to be able to provide support for the beliefs of the students.
"My role in the club is to provide the students with a safe place to meet. I'm really proud and happy to support students who take an active interest in Israel and its politics," Goler said. "I love exposing students to other parts of the world, bringing the soldiers to the high school effectively conveys what its like to live in Israel and how challenging that life can be."
Normans for Israel meets every other Tuesday in room 305. The club encourages the student body to use the meetings as an opportunity to become more aware of Israel.
Story continues below advertisement