Meet the Teachers: Stewart Horowitz recalls his Norwegian jail experience
As seen in the Feb. 21 print edition.
Eunice Kim, staff writer
Curious about the world he lived in, social studies teacher Stewart Horowitz traveled  to Western Europe while he was "still young."
His first voyage was in 1972; during that time he visited England, Great Britain, Ireland, Scotland, France, Belgium, Netherlands, Austria, Switzerland, Germany and Greece. However, this did not satisfy his thirst for adventure and he set out to Australia, New Zealand, Israel, China, Hong Kong, Thailand, Tibet, Cambodia and Africa in 1981 and 2001. While discussing World War II few weeks ago, Horowitz shared stories of the places he traveled.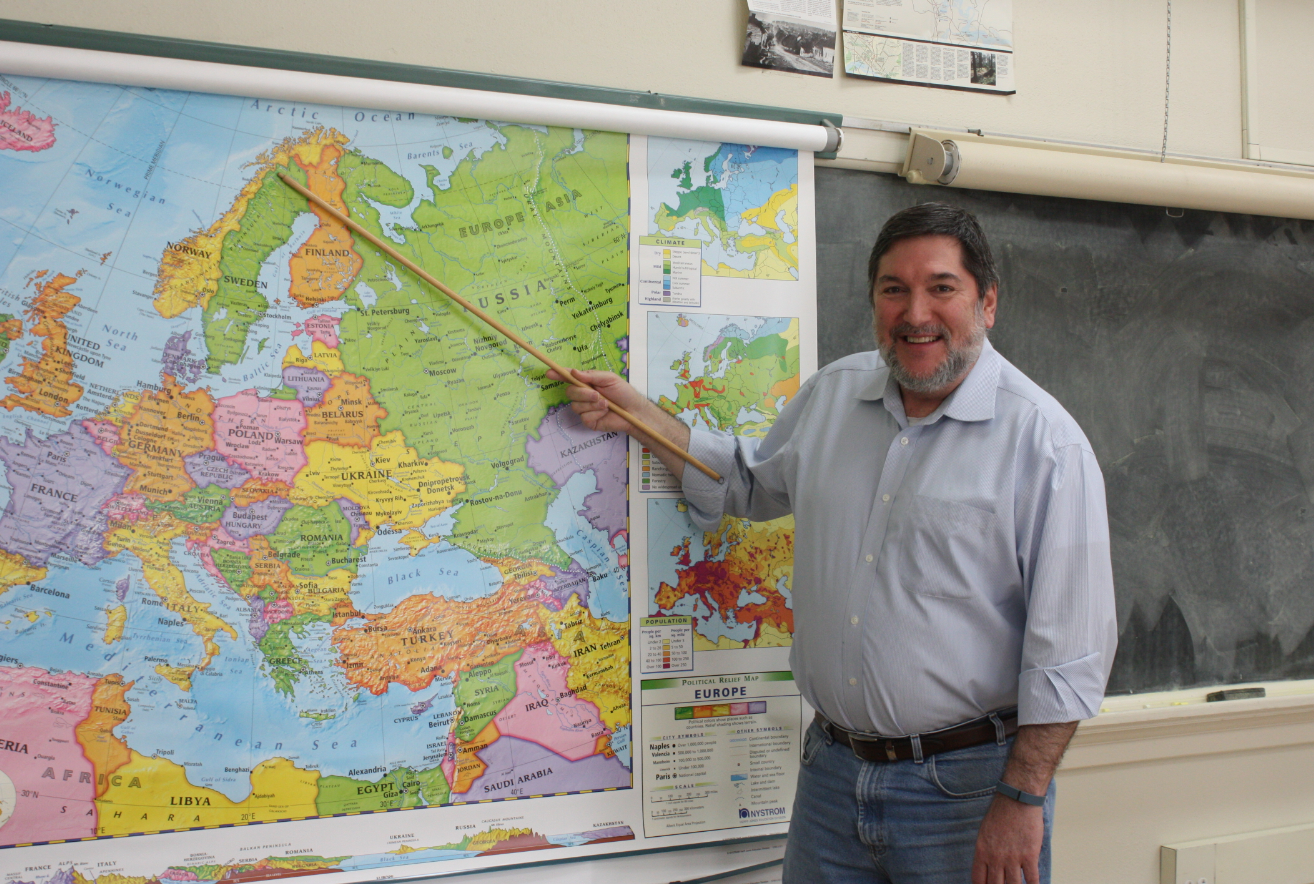 During WWII, Horowitz explained, Germany invaded Norway for the purpose of controlling iron ore exports. Germans would ship the iron ores to Germany by using the harbors in Narvik, where Horowitz traveled to see the land of the midnight sun.
"[In Narvik] the sun is always up even though at night. The night never darkens at midnight," Horowitz said.
When Horowitz arrived in Narvik, the weather was freezing from the rain, and Horowitz could not find a place to stay. Due to conventions that were taking place in Narvik at the time, hotels and inns were booked.
"Everything that was available to stay was literally full. The train station was closed at night and I couldn't find any place I could stay," Horowitz said.
In order to find a place to sleep, Horowitz went to the police station. He asked the police officers if he could stay for the night. They agreed and Horowitz was given a cell to sleep in. The cell Horowitz stayed in was very comfortable — until the police officers locked the cell door.
"The officer in charge said that the regulation required the cells to be locked," Horowitz said. "I asked them, 'Are you going to be here in the morning?' and he said, 'There is going to be someone else,' and I asked him to please make sure that I got out of the cell in the morning."
Once the matter was cleared, Horowitz was able to relax. He also pointed out that he was lucky to have no actual criminals in the cell while he slept. He recalled this event as not being troublesome at all.
"I never had any trouble [when I traveled]. Well, [the jail experience] wasn't a trouble," Horowitz said.
Although Horowitz's traveling experience does not have any direct impact on his lectures, he can still connect his traveling experiences while teaching various countries' history. Horowitz does not plan to travel after his retirement because he is "too old."