Bogner fights colitis, returns to academics, friends, ASB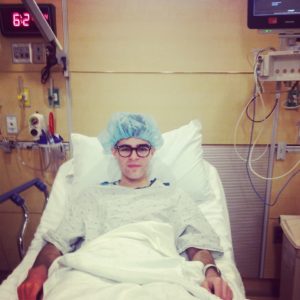 As seen in the Feb. 21 print edition.
Jessica Lu, news editor
Senior Gabriel Bogner thought he had the flu when he returned home after a stressful day at school in April 2013. When his fever persisted and he started getting spasms, Bogner was admitted into the hospital for five days, before going home on pain medications.
"I was home for one day, I went to school and I collapsed that night," he said.
Bogner was born with ulcerative colitis, a type of inflammatory bowel disease (IBD). According to Bogner, his condition was "never bad" until his stress triggered its reemergence. He was readmitted to the hospital for 21 days and took several different medications, along with Remicade, a chemotherapy drug.
"It is supposed to be the strongest drug to stop Colitis," Bogner said, "and it didn't work. I still was in extreme pain."
The drug also hampered his immune system, and upon returning home, he caught an intestinal bacterial infection. Back at the hospital, he was given another medication to take with his seven other medications. Bogner said he had an allergic reaction to one of the eight and his throat closed.
"I was checked into the hospital for four days," Bogner said. "I was losing a lot of blood and the doctor said that my organs were starting to fail. I needed to have surgery to save my life."
After the doctor called in a surgeon, Bogner was scheduled to have a full proctocolectomy with a temporary ileostomy.
"What that means is they took out my whole entire colon and gave me a temporary ostomy bag," Bogner said.
The ostomy bag serves to carry out the colon's intended functions.
"After eight hours of intense pain, I developed paralysis in my intestines," Bogner said. "Nothing was moving. I couldn't eat or drink anything for the first seven days, and I was down to 90 pounds."
Bogner was fed by a feeding tube through his arm. After 12 days, Bogner was released from the hospital on July 4, 2013. The hospital provided him with a home nurse to assist with his feeding tube and his ostomy bag.
Some days afterward, he was not feeling well and so returned to the hospital. His feeding tube had become infected and he had contracted staph infection and was put on heavy antibiotics.
"I was in the hospital for six more days and then finally I started to feel better," Bogner said. "I could eat and so they released me."
He was also scheduled to have another ileostomy in September, in which the surgeons formed a J-pouch out of his small intestine.
"It's a manmade organ that suffices as your colon," he explained. "It was the most complicated surgery."
After five days of recovery in the hospital, he returned home and began taking his classes at home. His teacher, Ms. Wax, acted as a liaison for his school teachers, who would give her the school work to give to Bogner. With her help, Bogner finished his junior year classes from the previous year. He added that Ms. Wax provided support outside of academics as well.
"She was also counseling me," he said. "[She was] a really good support system."
A month after his second major surgery, he developed a blockage in his intestines and went back to the hospital for three more days. On Nov. 12, 2013, Bogner underwent another surgery, a small bowel resection and an ileostomy takedown. Part of his small intestine was removed, and his ostomy bag was taken out.
"At first, I didn't know the severity of his condition," senior Alex Sams, Bogner's close friend said, "but as his health deteriorated I was really concerned and it was really heartbreaking to see someone I have been so close to in such a horrible condition."
In total, Bogner underwent eight surgeries, three of which he described as major. His health is currently stable. Bogner has a few diet restrictions and takes antibiotics.
"Unless there are complications with the J-pouch, I am pretty healthy considering everything," he said.
Bogner is now able to leave his house and spend his time on various activities.
"Basically until a month ago, I couldn't go out a lot because even after each surgery it took about a month to [recover]," he said. "It was freeing to be able to go out and experience things."
Bogner was also able to return to complete his last semester of senior year.
"I was very determined to start school again and finish my senior year," he said. "I was really focused on getting better and coming back to school and to be with all my friends."
His family and friends were supportive throughout the whole process, according to Bogner.
"My close group of friends would always come to visit me in the hospital," he said. "It was really hard at some points that I didn't care any more because I was in so much pain, but [I had] the idea that I wanted to get better and get my life back. It's amazing to see my friends again every day in school."
Sams, who often visited Bogner in the hospital, felt similarly about his return to school.
"I am overjoyed that he is recovering successfully because it was really hard seeing him when he was so sick and I appreciate his friendship so much," Sams said.
Currently, Bogner is taking the classes required for graduation and serving on the Associated Student Body (ASB). While he was homeschooled he was elected ASB Headrow Treasurer.
"I am really passionate about ASB," he said. "I am trying to get involved as much as I can and really focus on ASB and try to make senior and school events the best that they could possibly be."
Senior Leili Hashemi, a close friend of Bogner's and serving with him as ASB Secretary, said Bogner's return to his school involvement was admirable.
"It was weird seeing him so sick because he was always so active and involved with so many things," she said. "I think he came out stronger than ever. I'm honestly so proud of him."
Bogner, a former member of the cross-country and track teams, has also been able to rekindle his passions for sports.
"I'm trying to be super active," he said. "I have been running and playing volleyball. I was so bottled and closed up in the hospital room for so long that I have a lot of energy."
Bogner also wants to get involved with groups that address colitis and similar conditions.
"The whole thing really changed my outlook on life," he said. "It made me appreciate everything I have and hone into what I want to do and what I am actually passionate about."
He hopes to study neuroscience at a college or university out of state. For now, Bogner is focusing on finishing school and waiting to hear back from colleges.
"I'm happy to be alive and graduating," he said.