BHHS DECA member headed to ICDC
Amanda Christovich, cub writer
A myriad of round tables studded the large conference hall in California's State DECA competition in Anaheim two weekends ago. The hall was alive with the hum of numerous aspiring intellectuals, entrepreneurs, CEOs and world-leaders. Junior Austin Mack, a member of the BHHS DECA club, sat at one of these tables during his accounting applications event.
"I was worried if I could win anything because I lost last year at state," Mack said of his feelings directly before the competition.
Mack, like many DECA participants, spent extensive time studying for the competition. The nature of DECA competitions demand rigorous study time and a thorough comprehension of each participant's respective subject.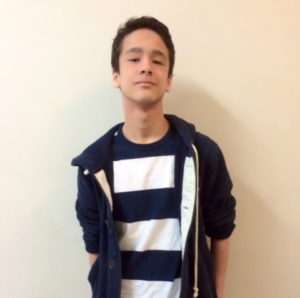 In addition to participating in five rigorous group prep sessions, Mack prepared for his event by studying from a finance book that was relevant to accounting. He also studied from role plays and multiple choice tests from past competitions.
Though a second year DECA participant, Mack expressed his unfamiliarity with the fierce state atmosphere.
"I knew the state [competition] was nothing like the district [competition] from last year's experience," Mack said.
Despite his extensive preparation, Mack felt "nervous during role play and very anxious before the awards ceremony."
"I was hoping I could go up on the stage [top 10]", Mack said. "But I wasn't expecting second place."
Mack's hard work paid off. For the first time in his DECA career, Mack placed not only in the top 10 participants, but won second place. This title earned him a slot at the ICDC (International Career Development Conference) in Atlanta, GA., on May 3-6. He will join Olivia Koshy, Charly Azoulay, Evan Rennie, Yaniv Sadka, Kevin Delijani and Lana Schwartz, who will represent Beverly in leadership academies. However, Mack is the only individual qualifier for the ICDC from Beverly.
Mack did not join DECA with the aspirations of DECA prestige. His journey with DECA began when he realized that he "had to do something" other than just school.
"I knew the supervisor at the time and my friends were in it," Mack said. "I didn't actually have any interest in business."
After over a year of DECA participation and an impressive performance in Anaheim, Mack expressed his positive feelings toward the club and his experiences with it.
"I'm glad I joined DECA and put time into it," he said. "Not everyone gets to go to international competitions of any sort."
Leading up to the ICDC, Mack said that he will review his current materials and study more accounting books. He will join over 16,000 students, alumni, advisers and businesspersons in a competition that the official DECA website deems "the highlight of the DECA year."
Regardless of the accolades Mack has already received in DECA, he is glad he joined the club because of what he has learned as a member.
"It made me consider business-related majors," Mack said. "[DECA] introduced me to finance and gave me insight to how business works, which can't be learned from a regular classroom."