Alice Roh balances life
Lolita Gorbacheva, cub writer
Every day students come in and out of social studies teacher Alice Roh's room, asking questions about grades and homework not knowing what happens outside her classroom.
Roh is a married woman with two sons and one daughter. When she leaves the classroom, her focus turns to her family. She takes her children to their baseball practices and games, but even with all of this work she finds time for something dear to her heart: coffee.
"I love coffee and I like to go to coffee shops and drink the coffee there both by myself and with my family," Roh said.
Whenever Roh gets a chance to have some 'alone time', coffee shop's are her favorite place to go. Costa Vida located in Pasadena Calif., is her favorite coffee shop to go to currently.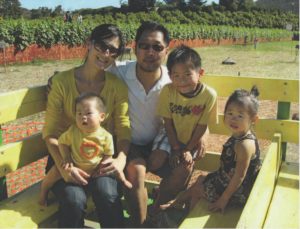 "It's relaxing and I get time to myself. It is a place where I can meet friends and catch up with people," Roh said. "My favorite coffee shop to go to is Copa Vida because of its beautiful location, good coffee and amazing food."
Balancing her busy lifestyle and her passion for coffee, Roh still manages to grade hundreds of students' homework and tests, and plan lessons.
"My life is busy, but I try to manage everything by focusing on school when I am either at school or have time at home. When I am taking care of my kids, I keep my focus only on them, and when I have some spare time, I do something relaxing," Roh said.
Roh has a good reputation as a teacher at school, as a mother at home and as a friend.
"Mrs. Roh is a great teacher, she always has everything prepared and I have learned a lot from her class. I will remember everything because she goes so in depth and explains everything so well," freshman Jackie Hauser said.
Roh found her long-life passion teaching at Beverly, manages to give her kids everything they need and has an interest in coffee all at the same time.