Veronica Pahomova, cub writer
The vibration of the dribbling ball echoing through the ground. The visible sweat on each player. The contagious intensity. The swoosh the net whispers when a shot goes in. All of these are things Edison Locke just can't seem to get enough of.
To Locke, basketball isn't a just a sport. It's not just the reoccurring connection between most of his jobs. It's a lifestyle.
Locke first discovered his passion for the sport in high school. Even though he would usually just shoot around with his friends for fun, this was when he began to move the game from the court into his life.
In only ninth grade, he accepted his first job coaching basketball. From 1989 to 2013, he's still teaching plays and molding his players into athletes.
"I love getting a team from scratch, putting them together and then watching them play what I taught them to do," Locke said.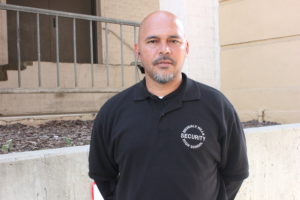 Even at a very young, Locke points that he has always been competitive. Losing is not in his vocabulary. This and several other characteristics are what make him an outstanding coach in the eyes of all the players he's coached.
"I remember getting coached by him last year when he taught frosh/soph and now he coached me in JV. He strengthened my skills, and if you look back to my first day to how I am now, it's a drastic improvement," JV post Sabrina Halavi said.
Recently, Locke finds himself training college girls who were once his students. One of his previous players even flies in from Hawaii just for his skills and wisdom.
When the winter sports teams have to say their farewells, thanks to Locke, girls who are on a basketball team have another alternative. California Basketball Club is Locke's personal off-season activity where he gives girls who wish to continue playing a chance to perfect their technique and advance.
"CBC keeps kids active and motivates them to keep playing. It's a place for girls to work and improve on their skill set," Locke stated.
Aside from coaching the JV girls basketball team and assisting for the girls varsity, Locke can be found on the weekends mentoring the coaches in the Beverly Hills Basketball League.
Don't be fooled, however. As previously stated, coaching isn't Locke's only way of connecting to the sport. If others can't find him at the school, they'll find him at any basketball game.
NBA, college, high school, name any level of basketball and Locke has watched it.
"Basketball isn't easy. You need determination. You have to be willing to practice and get better, but most importantly you need passion," Locke said.
Locke has progressed from not even being on his high school team, to watching, coaching, mentoring, training and assisting his favorite sport for 25 years. Basketball is a flame he can't seem to extinguish, not like he would anyway.
Story continues below advertisement