Library holds fourth annual Edible Book Festival
Braden Bochner, staff writer
This past Friday, the Student Library Advisory Group hosted the fourth annual Edible Book Festival in the Lili and John Bosse Library. Students were encouraged to submit an edible creation based on any piece of literature, including authors and characters.
Three years ago, Head Librarian Karen Boyarsky discovered that the Edible Book Festival was being held at various colleges. Boyarsky brought the concept to Beverly and tied the event in with National Read Across America Day.
"When we first introduced the event [four years ago], I was blown away with how creative the students and teachers were," Boyarsky said.
This year's contest had a total of 19 submissions. According to Boyarsky, the submissions are "getting more and more creative" each year.
Festival awards are divided into ten different categories, some of which include Most Humorous, Most Creative and Best Use of Food. An additional category, People's Choice Award, allows students to vote for their favorite submission.
This year's panel of judges included Phil Chang from the English Dept., Corinne Carlson from the Foreign Language Dept., Chef Rick Leece from the ROP department and Melony Bronder from the Fine Arts Dept.. Student judges included two Associated Student Body members: Commissioner Isaac Spector and Sophomore President Blake Ackerman.
In addition to planning the event, the Student Library Advisory Group also participated in the judging.
"I couldn't have pulled this off without the help of the Student Library Advisory Group. They made sure the library was up and running during the competition," Boyarsky said.
While many students enter the competition for fun, some teachers use the contest as an extra credit assignment.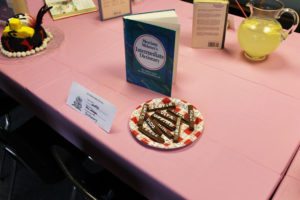 "Some of our most engaging teachers are responsible for many of the entries, because they really encourage students to participate," Boyarsky said. "But we also have a lot of submissions from people who decided it would be fun to do. Either way, it always amazes me how wonderful the submissions are."
The award for the "Punniest" submission went to sophomore Mishelle Arakelian for her entry based on John Milton's "Paradise Lost," which her class studied this year. Arakelian baked brownies and used marshmallows and graham crackers to create a set of dice. She then wrote the words "lost and found" on one of the graham crackers.
"I thought the contest would be a fun way to get involved in the school and I really liked looking at the entries last year," Arakelian said. "My favorite part of making my creation was thinking of clever puns from the titles of well-known pieces of literature."
Other submissions included creations based off titles such as F. Scott Fitzgerald's "The Great Gatsby," Harper Lee's "To Kill A Mockingbird" and James Frey's "A Million Little Pieces."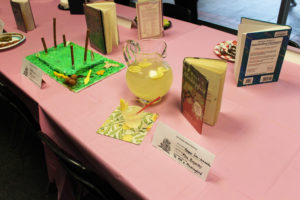 "My favorite part of the competition was standing in the front of the library during the morning of the competition, at 7:30, watching to see what entries arrived and who made them," Boyarsky said. "You never know what you're gonna get."
Boyarsky said she also enjoys handing out the prizes after judging. This year's prizes included Barnes and Nobles gift certificates.
Boyarsky believes that the competition attracts students because it allows them to think creatively and craft something unique.
"Students love this festival because it's very different. They get to do something very unusual and build something out of edible materials," Boyarsky said. "Oh, and of course they enjoy getting to eat everything after the competition."
For more contest photos, visit the Library's Edible Book Festival page.