As seen in the March 7 print edition
Baseball
Max Stahl, comment editor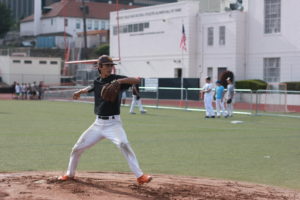 The varsity baseball team may seem a bit more youthful this spring. In addition to a couple unexpected developments — former pitching coach and JV manager David Cantrell has not returned for this season, and JV players, out of necessity, now practice with the varsity squad at La Cienega Park — sophomores and juniors will outnumber seniors on this year's varsity baseball team. But, despite these changes, the team's goals remain very much the same.
"Our goals are the same as always: try to make the playoffs, try to get as many wins as you can. W's at the end of the day, that's what counts," junior Rigo Fernandez, captain and starting center fielder, said.
Senior Maxwell Martin, captain and starting pitcher, added that he hopes the team will finish higher in league than it did last year, when it placed third. Fernandez is confident the team is up to the challenge.
"We're a really young team, but we're going to surprise a lot of people," he said.
Fernandez and Martin are two of only three returning varsity players this season. The other is senior Jackson Martin, captain and starting catcher. The three of them are largely responsible for adjusting the remaining varsity players to a new level of play.
"It's been tough," Maxwell Martin said. "We have to teach these guys a new standard than they had the year before, and they're figuring it out. We're starting to get it rolling as season's approaching."
Part of this instruction involves mundane tasks like raking the infield dirt and putting out tarps, but there's an important psychological element as well.
"We have to teach them how a varsity practice works, the intensity of it, and just being mentally there the whole practice," Jackson Martin said.
It's not just the new varsity players who need to adjust to a higher level of practice; because the JV team currently doesn't have a coach, the players have been practicing with varsity.
"There's definitely a feeling where we're trying to get [the younger players] to stay more on task, and because we've got a ton of sophomores this year, the upperclassmen are definitely telling the younger kids how to stay in line and how to do things the right way," Maxwell Martin said. "And we don't have that many coaches, so it falls on us to keep them in line."
The JV players are dealing with increased pressure to perform now that they practice with the varsity squad. They view it as a chance to grow.
"It's a great opportunity to improve and an all-around amazing experience," sophomore Jacob Hankin said.
The Martins are excited about this year's varsity team and they are looking to Fernandez, seniors Nick Kleerup and Kenneth Kwon, and juniors Joe Maisterra, Jackson Prince and Mason Leib to have standout seasons.
"We have a bunch of guys that are good baseball players, but we'll see if they step up. A few of them are going to, for sure," Maxwell Martin said.
The team's first preseason game will be today at Alhambra.
Girls Lacrosse
Audrey Park, staff writer
The girls lacrosse team will debut this spring with a new assistant coach, Susan Kolko, and a new league: the Ocean League. The addition of two new schools boosted Beverly to the Ocean League from the Bay League.
Head Coach Kathryn Marks believes that this will be a "great season" because of the combination of "amazing returning players," "key newcomers" and a new coach.
"Our key returning players are Natasha Kashani, MVP from last season, Inbar Avrahami, our goalie, and Sami Shah. Our key newcomers are Dani Nabatkhorian, Landry Bearden and Kate Ganon," Marks said. "I'm also happy to have Susan Kolko coaching alongside me this season. Susan is a great resource for the team to have."
The girls have been learning and reviewing important concepts during practice in order to improve this season.
"Practice has been pretty intense. We're running a lot more and working hard on our stick skills," Avrahami said. "I'm very hopeful that the crowd will expect more wins from us this year."
Through practice, Avrahami hopes to beat her record of 230 saves from last season and help the team make CIF.
"My personal goal is to make more than 300 saves this season," Avrahami said. "I hope to achieve this by working hard and practicing with our new goalie coach, Susan."
According to senior Shanny Lee, many of the seniors, including herself, are hoping for this season to be the "best one out of the past four years."
"I'd like to see our team get into playoffs this year. Last year we were so close and, this year, with the fresh players, I'm confident that we'll make it," Lee said. "I'm looking forward to playing with both my old and new teammates."
Though lacrosse players are eager to start the season strong, flu season has coincided with their practice, and has already begun to negatively affect the team, according to Lee.
"Although practice has been rough and the weather has made some of our teammates sick, I'm confident that in the end it will be all worthwhile when we win," she said.
In order to achieve the team's goal of making the playoffs, Marks believes that it is "critical" to secure a position in the top.
"With the addition of some newer teams to our league, including Samo, we hope to secure our position on top early," Marks said.
The girls lost their first game of the season to Palos Verdes Peninsula High school with a score of 18-6 on Tuesday, March 4. Avrahami had 21 saves, but the opposing team got the upperhand and won. The girls will next compete in an away game against Mira Costa High school on Friday, March 7.
Softball
Audrey James-Anenih, staff writer
As the 2014 softball season rolls around, the girls varsity team prepares to face a new season. Even with the approach of a new season, the team is staying true to its traditional practices from last year.
"We've been getting into positive mindsets and the flow of the game. We've settled into the new season by doing our same practice routines as last year," left fielder Nicole Yuan said.
With only 12 girls on the team, it makes for a more close-knit family.
"The team is really friendly towards each other. Our team is small this year and everyone gets along," Yuan said.
While the team received five new members this year after the loss of seniors last season, the dynamic on the field has not changed negatively at all, but in fact the team has been able to keep a good balance of personalities.
"There's no bad competition between us because softball is such a team sport. The new players on the team don't even feel like new players. We all just get along and there's nothing cliquey," Yuan said.
This year the team is adapting after the loss of a former coach, Coach Edison Locke. Coach Leonard Mitchell will be the sole manager. Although the team has not been able to figure out whether or not this will change their team dynamic, with the bonds they've formed, a negative seems unlikely.
"We will miss Eddie, but I think it's up to the players on the field when it comes to game time, not the coaches. It means that now we will have players stepping up as captains and taking responsibility," Yuan said.
Their first league game was on March 4 against St. Monica High School, in which Beverly lost 8-2.
Story continues below advertisement
Boys Lacrosse
Audrey Park, staff writer
The boys lacrosse team, having yet to make CIF, will look to their experienced upperclassmen to carry them to their first playoff bid.
"We've been really serious and practicing really hard," senior Eli Eshaghian said. "We're more serious this year because we really want to get into playoffs. We've never been before."
Although practice has been a bit "bumpy," according to junior Sammy Edwards, Edwards aims to "work hard and carry his teammates to many victories."
"Practice has been going alright. We have a lot of beginners and we began practicing very late. We started [practice] a week before our first game," Edwards said.
Unlike last season's team of experienced players, the audience this season can expect a larger number of new faces.
"We're going to be a lot younger and hopefully experienced in the sense that we have some returning players from last year," coach Steve Taylor said.
Despite the fact that 12 seniors graduated, Taylor believes that the combination of returning players and new key incoming players can help the team achieve playoffs.
"Our key players are all the seniors, especially seniors Morgan Henderson and Yaniv Sadka," Taylor said. "We also have some newcomers, such as Charles Sager, who we hope will help us out tremendously."
Edwards, who plays on a nationally recognized team, the LA Lazers, and has already committed to Loyola-Maryland for lacrosse, hopes to average a "good number of points this season."
"I want my stats to reflect my capabilities and potential," he said. "The crowd can expect to see a new leader on the field in the Number Two jersey. I will give my best on the field for every game I play."
According to Taylor, the boys have been getting a good workout, despite the recent rainy weather, and he is confident that the boys will have a successful season.
"In order to make it to playoffs, we definitely need to finish above .500 and in order to do that we need to win at least eight games," Taylor said. "I think we could do it."
The boys' lost their first game, with a score of 11-9, against Chaminade on Monday, March 3 . Their next game is an away game against Viewpoint High School on Wednesday, March 12.
Track
Jackson Prince, sports editor
The 2014 Beverly track season will be the first without Coach Jeff Fisher in four years. Along with Fisher's departure, many of the junior and senior distance runners runners will not return to the team, meaning that the squad is generally young.
However, there is a lot of "potential," according to sophomore pole-vaulter Amanda Block.
"The team seems to be doing well even under the new circumstances," she said.
Last year, 15 girls and eight boys qualified for CIF, highlighted by seniors Sydney Segal, Chanan Batra and Alex Rohani. Though it might be difficult to reach the heights of the 2013 season, the team has "high expectations" in Coach Dwayne Washington's first year as the head track coach, according to Block.
Boys Swimming
Jackson Prince, sports editor
The boys varsity swim team will begin its 2014 season without Coach Rob Bowie for the first time in eleven years. However, the swimmers aren't calling this a lost season by any means.
"We expect nothing short of first place in league," junior Justin Shegerian said.
The team, coming off of a perfect season, looks to repeat the success, according to senior David Kotlarenko.
"Hopefully we can pull off another undefeated year," he said. "I want to break all of my past times, too, but that has always been a goal of mine.
The team looks to remain dominant in the Ocean League with Kotlarenko and senior Mason Segal at the helm.
Boys Volleyball
Jackson Prince, sports editor
With a new coach, affectionately known as Coach D by the players, the boys varsity volleyball squad is aiming high this year, according to outside hitter Amir Movassaghi.
"Though I was a little worried because we lost a lot of good players from last year, I see this season being better than 2013," he said.
According to Movassaghi, Coach D is a "improvement" in the team's leadership.
"Coach D an experienced winner, and he has us focusing primarily on our speed and our defense," he said. "[Coach D] will steer us in the right direction."
Last season, the boys lost in the second-round of CIF to South Pasadena, who went on to win the entire tournament. The volleyball team's goal this year it to take first in league and win more than once in the playoffs.
Led by standouts Lucas Wohl, Ronan Massana, Brian Masjedian and Ibraheem Agaba, the team is in a position to reach new heights.