Baseball defeats St. Margaret's in double header
Dami Kim,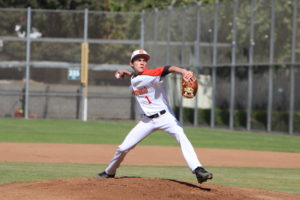 culture editor
The varsity baseball team, which was then 5-5 in season, won both games of a doubleheader on April 2 against St. Margaret's Episcopal School, then 6-2. The team won by a large margin 8-2 its first game while the game was neck and neck in the second. However, Beverly still secured the win 9-8.
Though St. Margaret's scored first in the first inning, Beverly responded with three runs to take the lead. With no errors, the team pushed through by scoring in the fifth inning and scoring four in the sixth inning to seal the win.
Every member of the team contributed to the team's win. Junior Rigo Fernandez made a triple, while freshman Grant Gaon had three singles with two runs batted in, and senior Maxwell Martin pitched seven innings with eight strikeouts and one earned run. Senior Jackson Martin threw out a runner, had a triple, a run and a run batted in.
"I was really excited after throwing out the runner," Jackson said. "It really calmed down our pitcher who was struggling to throw strikes early in the game."
With a fairly smooth win in the first game, both Gaon and Maxwell felt confident going into the second game.
"I wasn't concerned about how the game was going to end [after the first game,]" Maxwell said. "The team got me an early lead, and I was in control on the mound."
Gaon also added, "We weren't tired [at the end of the first game]," he said. "We had enough [energy] to pull out the win."
The second game, however, consisted of ups and downs throughout the game with Beverly winning by a single run. Though Beverly took a 1-0 lead in the first inning, St. Margaret's responded with six runs in the second inning, leaving Beverly in an early 6-1 deficit. In the next two innings, Beverly rallied and mounted a comeback scoring a total of five runs with Fernandez breaking out of a slump and hitting three singles, while senior Raymond Son had his first hit of the year. Maxwell also batted 2-3 with a double and a triple and three run batted ins with two stolen bases. In the bottom of the sixth winning, Maxwell hit a two run home-run to put Beverly back in the lead 8-6.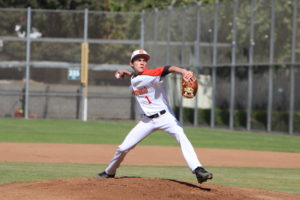 The close game continued with St. Margaret's scoring twice more in the top of the seventh inning. Finally in the bottom last inning, Beverly applied pressure causing St. Margaret's to make errors. With Martin at the plate, passing ball and leading to walk-off, Beverly won 9-8 final score of the second game.
Even though the team only has three returning starters to the varsity team this year, Maxwell strongly believed that the team will play well the rest of the season, considering its successful win against St. Margaret's.
"We started the season 0-3, and since [then] we are 7-2," Maxwell said. "Our young guys have really started to figure out varsity baseball. I expect us to be in contention for leagues this year and play CIF."
Gaon also felt confident in his team.
"I like our group of guys. I feel like we have what it takes to win and do well in the league," Gaon said.
Furthermore, Jackson gave kudos to his fellow players senior Kenneth Kwon and sophomore Alex Neustaedter when asked for an MVP of the game.
"Kenneth gave us the emotional support and made a great catch in the outfield. Alex also pitched a great game as well," Jackson said. "We have really been able to put it together recently. I think this team is special. We're playing good defense and hitting well."
With great expectations from the players, the varsity team will kick off its league season with a game against rival, Culver City on April 8 and April 10. The team will also play against El Segundo on April 11.  Scores for both games were not available in time for press.