Eugene Gold: World War II veteran relflects on service, writes inspiring novel
As seen in the May 2 print edition
Audrey Park, staff writer
Alumnus Gene Gold (class of 1944 and Highlights managing editor) recently published a historical-fiction novel, "The Luger's Vision," inspired by his own experiences fighting in World War II. The book revolves around the lives of three young men: Caucasian, African-American and Japanese-American. The three men overcome racial tensions and defeat a hate group in the California fictional town of Cuesta Verde, affirming their belief that "America belongs to us all."
Having been drafted by selective service, Gold joined the army a week after his high school graduation in January 1944. He was sent to Camp Roberts, an infantry site for basic training.
"The infantry is considered the most dangerous job in the army because they're the ones who are right on the front line engaging the enemy face to face," Gold said.
After Gold finished his combat training, he was sent to a camp in Mississippi, where he stayed for a few months until he was taken to the New York harbor to be sent to France. The United States army had already invaded Normandy; Gold joined General George S. Patton's third army.
"It was very, very cold and we were supposed to land in England first, but a week before, a German sub sank a U.S. troop ship and 1,000 Americans drowned so they considered it too dangerous to cross the channel," Gold said. "We went into a camp in France that was not quite ready for us. The weather was extremely painful and uncomfortable. It was a mess."
Inspired by his experiences, Gold decided to write the "The Luger's Vision" as a legacy for his descendents. After having received an assignment on his family tree back when he attended Beverly, Gold realized that "you need to know about your ancestors to be able to write a decent essay," and was motivated to do so. He began his project in 2011, at the age of 85.
"You may have had some ancestors you know about and some you know a little about," Gold said. "When I went into the army I was just 18 and was not married yet. Consequently, I didn't have children or grandchildren at the time, but they were in my future plan and I wanted to have something written down on paper for them."
Brian Gold, Gene Gold's son, is "proud" of his father's accomplishments and the legacy he created for his three children and two grandchildren.
"I think the book is a poignant retelling of his wartime experiences along with a fascinating fictionalized accounting of the life of three wartime friends," Brian Gold said. "It is a great book for those interested in historical fiction and true life events."
The most difficult aspect of writing the novel was reliving the memories of seeing "men who were like brothers being killed or severely wounded in action." During the war, Gene Gold recalls going to army training camp stores to have a coke or beer while playing pool with his comrades.
"You form a lot of close friendships with men, and they become your brothers. Those dear friends were killed all around me in combat. I was very lucky," Gene Gold said. "In my class at Beverly, one of my best friends and I planned to meet and resume our friendship once the war was over. During the war he and I exchanged letters. One day, I got a letter back with a stamp saying that the letter was not opened and the recipient was killed in action. It was crushing."
A major underlying theme in Gene Gold's novel is peace. He hopes the readers will be able to grasp that it is useless to discriminate against a group of people because of their race, sexual orientation or religion.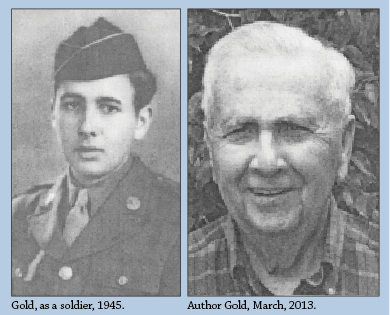 "It doesn't mean we have to like every person in a specific group. There may be people who are not nice and we don't have to necessarily like them, but we don't have to reject the whole group," Gene Gold said. "I want to give recognition to the minorities who are often not given enough credit for their contribution to democracy."
Gene Gold specifically chose to include pictures of Manzanar, a Japanese-American internment camp, and a picture of the Tuskegee Airmen, a group of black pilots, on the front cover of the book in order to give recognition to these two minority groups.
"Blacks were severely discriminated against and they were not considered smart enough to be pilots," Gene Gold said. "The airmen did a marvelous job flying along with U.S. bombers that were stationed in England and bombed German cities that were making airplanes and other supplies. They did a terrific job."
In addition, in his book, Gene Gold also explores the challenges homosexuals face.
"The daughter of a soldier and nurse turns out to be a lesbian and the father thinks it's his fault," Gene Gold said. "The nurse explains that they didn't make any mistakes; being gay or lesbian is all just biological."
Two weeks before the war ended, Gene Gold was involved in a serious street fight with a German SS trooper (a member of Hitler's team of spies). The trooper began to take out his Luger pistol; Gene Gold's rifle was out of bullets. Gold took his rifle and "smashed" the trooper to the ground.
"He looked up at me and shouted in English, 'I surrender! I surrender!' I could've killed him, but I didn't want to and there were a couple of military police nearby so I called them over and told them to take the man as a prisoner," Gene Gold said. "I told him, 'I want you to have the memory for the rest of your life that a Jewish guy is putting you out of the war!' The book's title was inspired by this event. Gene was allowed to take the pistol home."
Due to the amount of American history covered, Gene Gold believes that the book would make a "very good motion picture."
"It talks about the danger of hate groups and the attempt to destroy democracy while incorporating romance and issues, such as homosexuality," Gene Gold said. "The book covers everything from the 1940s till now. It was a total shock to me that I was able to live long enough to witness the inauguration of the first black president."
Readers interested in reading the novel can purchase it on amazon.com.