Summer's healthiest snack spots
Braden Bochner, staff writer
Juliette Deutsch, social media director
With summer right around the corner, we've created a list of three healthy spots with meals to keep you refreshed and cool during the summer months.
Kreation Kafe
1023 Montana Ave
Kreation Kafe restaurant is a spinoff of the well-known Kreation juice bars. The "urban oasis" restaurant vibe is complete with a wood-paneled outdoor cafe covered in moss and succulents. With a full breakfast and lunch menu, Kreation Kafe offers a wide variety of light, Mediterranean cuisine prepared with local ingredients. The juice bar menu has a selection of tonics and shots, including the Liquid Gold, made with a citrus blend, cayenne pepper and turmeric. Brunch items include seasonal frittatas, the Quinoa Chopped salad and avocado toast with pumpkin seeds. The Cafe also serves a seasonal tapas bar, with small dishes including a bruschetta sampler and trio of salsas.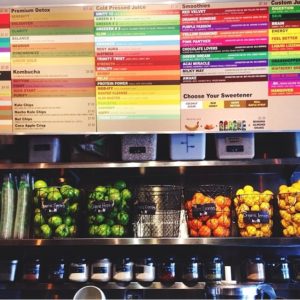 Juice Crafters
11682 San Vicente Blvd
Located in the heart of Brentwood,  Juice Crafters serves a variety of pressed juices, smoothies and Acai bowls. The small shop has a rustic, "Farmers Market" feel, the walls are covered with vintage fruit posters and a small refrigerator holds a variety of trail mixes and raw chocolate truffles. Perhaps the most popular item on the menu would be Juice Crafters' signature Acai bowl, a blend of goji berries, blueberries and strawberries, topped with sliced bananas, shredded coconut and granola. Popular pressed juices include the Fresh and Clean, a combination of apple, watermelon, carrot and ginger and the Cleanse Guru, made of cucumber, pineapple, and coconut water.
True Food Kitchen
395 Santa Monica Place #172
Located near the Third Street Promenade, True Food Kitchen is home to a unique interpretation of modern American cuisine. The spacious restaurant and patio are decorated with bamboo and wheatgrass. The zen-atmosphere compliments the restaurant's farm-to-table based menu, which boasts nutritious options. Natural refreshments include the tangy, yet sweet Pomegranate Limeade, as well as the refreshing Cucumber Lemonade. True Food's brunch plates include a Tuscan Kale salad and a Chicken Sausage Vegetable scramble. The menu features vegan and vegetarian items as well, such as the Quinoa burger and a variety of curry bowls.