Celine Rezvani, staff writer
As part of a decision to take a new approach to college admissions, the Board of Education debuted a brand new position, Dean of College Admissions. Appointed to the new position is AhYoung Chi, a University of California San Diego graduate and former college counselor at Malibu High School.
Chi studied biology at UC San Diego and was planning on becoming a biology teacher, but realized that the classroom setting was not for her. Chi received her Master's Degree in counseling from Loyola Marymount University and completed her Pupil Personnel Services (PPS) credential. Chi hopes to use her expertise to offer students the support and resources they may need in their college application process.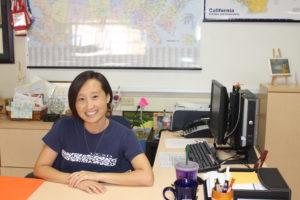 Highlights: Why did you choose to move from Malibu to Beverly?
Chi: I guess I was ready for a change, that's what was at the core of it. It was clear to me that the district wanted to do something really innovative with a college counseling position. I thought that the potential of this position was very exciting, and I think at a major college prep high school, we need somebody to be in that strong position.
What is your plan for current juniors right now?
We have junior college counseling night coming up on Sept. 2. The plan is to tell them where they should be right now. I plan on seeing them in the classroom sometime in October or early November to talk to them more in detail about what is coming up, when they should take the SAT or ACT, and how to prepare. I want them to start thinking about what colleges they would be successful in; then we'll meet individually in the second semester where they will get a lot more attention.
What is your plan for seniors right now?
I want to take care of specific college related questions, because that's what I feel I have a specialty in. Between the counseling offices and the College Center, our students should feel like they have someone to go to if they need help. Taking advantage of college representatives that are coming in is a great way to get to know colleges and the people behind the reading process.
What do you think is the most important thing, for any student, in their journey towards going to college?
They really should engage in the learning process. Students shouldn't worry too much about "What does this college want me to have on my application?" They should really love being at school, being in their classes reading and learning, and challenging ideas. They should want to talk about what they're learning-because that's what college is. If that love of learning is not evident, colleges can see that in your application. If you love that learning process, everything else falls into place. If you really engage in that learning process, I think every college will want a Beverly Hills High School student.
Is there anything else you'd like to add?
I am excited to see what we can do because we also have a lot of new counselors this year, and a lot of new faces. We're really excited about the energy that was already here as well as energy that we're bringing into this school. As long as I'm here, that door is open. I want students to feel comfortable asking for help, because we know how to help them.
Story continues below advertisement