Cobb assumes House A Assistant Principal position
Ben Shofet, staff writer
Assistant Principal Renee Cobb left her position at Compton Unified School District (CUSD) as the College and Career Services Administrator to join the Beverly Hills Unified School District as assistant principal of House B.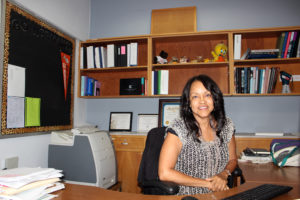 Cobb worked in the CUSD for 10 years as an assistant principal, principal, director in secondary education and College and Career Services Administrator. Cobb's main focus at CUSD was establishing college centers in the middle schools as well as the high schools.
"I had to nurture, grow and establish college centers in the middle schools as well as the high schools, and that was a big deal," Cobb said. "Not many things changes from sixth to seventh, but right away they start owning their own education so by the time they'd got to high school they'd be used to it, they'd want to go to their college center, they'd want to go on college tours, so I thought we'll start them early."
Before Cobb became an educator, she worked as a marketing agent at IBM, Edison and other companies. In the business world, Cobb learned the importance of cooperation between two parties and the importance of being able to communicate effectively with others. Currently, one of Cobb's many goals is to help students obtain the skills they need to succeed in the world of business.
"One of the challenges of organizations for students is that they don't know how to work together well; they work in their own little silos, but businesses don't operate like that," Cobb said. "They require for you to collaborate and respect each others talents and for you to work together with other people. And we don't necessarily nurture that in schools, but that's starting to change quite a bit."
Cobb hopes to continue to meet the demands of the students as well as the teachers. Her plans include stabilizing class sizes.
"Teachers need the flexibility to be able to address every need in that classroom. So when you stockpile kids in there, where it's 40 to 50 kids, they are unable to do that. So the goal is a win-win if we are able to balance the students' demands while being able to balance the amount of students in a classroom, it's a whole juggling act itself," Cobb said.
Cobb has enjoyed her first weeks as assistant principal and hopes to continue to help the students prepare for their futures in whatever field they hope to pursue. Cobb is excited to work with "tenacious" students who are eager to succeed in whatever they hope to accomplish.