Lolita Gorbacheva, staff writer
Select members of the English dept. have incorporated technology into their classrooms to engage students during lessons, grade work faster, and allow multiple students to work on one project at the same time.
"I pretty quickly discovered was that technology made my job easier, managing all the papers, managing the things that were going on in the classroom. The third part was that I really discovered that when I incorporated technology into my teaching, it was a way to engage the students in new ways," English teacher and Tech TOSA Dr. Steven Rubenstein said.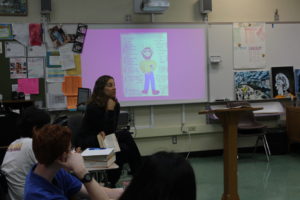 Rubinstein frequently uses his speakers, SmartBoard and laptops during classes. In English teacher Julie Goler's classroom, laptops were recently used for the summer reading test and essay, and used for a group assignment.
"What I really want to get into this year in the class is mirroring so that my students have access to the computers and they are able to put their information on the Smartboard. I believe that if you really want to be a good teacher you have to prepare your students for technology and it needs to be integrated into every lesson," Goler said.
According to Teaching Today, technology creates a visual aid for teaching, improves access to resources and lets students review and comment.
"In a variety of ways, I could now have easily have students do peer reviews with one another through Jupiter Grades, Juno Docs. I can give students really quick feedback on what they've done. This year I am doing a lot with Google Docs and Jupiter forms so the students can talk to one another, they can ask questions to one another," Rubenstein said.
The upcoming year for Rubenstein, English teacher Bill Hiatt, and Goler include learning more about technology and using it to benefit their lessons. Rubinstein predicts that the year will be "full of excitement."


Story continues below advertisement