Steve Taylor prepares students for life after high school
Lucas Harward, staff writer
Varsity lacrosse coach and U.S. government/economics teacher Steve Taylor promotes a creative and judgment-free environment in his classroom by encouraging students to think differently and have fun.
Highlights: How would you describe your teaching/coaching methods?
Steve Taylor: Well, teaching is an art, and each teacher is an artist in their own way, and each teacher has to paint a different picture. Teachers have to create this artistic balance between intellectual discourse and the realities of the 21st Century. My teaching on any given day is a work of art.
Highlights: What things do you try to teach your students that go beyond the classroom?
Taylor: The idea of life. How to be a good member of society and a productive and integral part of society. The posters in my classroom show how to think different, but more importantly, how to be different. For seniors, this is their last chance of having that barrier protecting them from the world, so I want them to learn how to make a difference.
Highlights: What do you have to say about the perception of you as a teacher versus the reality?
Taylor: The perception is, from what I hear after 27 years here at this school, that my class is out of control. That there's no learning taking place. The reality is that we're having fun and learning at the same time. For my class in economics and government, I want to create an environment where people are able to agree to disagree and respect each other's opinions and be comfortable. It's not easy though, and it comes with a price, which is this belief that this class doesn't do anything. But that simply isn't the case if you were to ask any of my students. We are learning just as much as anybody else, if not more. Not necessarily about government, but about government and life combined, and how those interact. Haters wanna hate.
Highlights: In your 27 years teaching, how do you think you or your methods have evolved?
Taylor: Our society has changed tremendously. The kids and the social media have changed so much. There's a language out there that has to be spoken in order to communicate with the kids, and if you can't speak that language, then you can't communicate with them. And if you can't communicate with them, then you can't teach them.
 
Highlights: What have your students taught you in your years of teaching?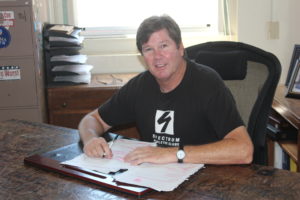 Taylor: They've taught me to have empathy. They've taught me about the pressure of what it's like to be a teenager in modern society. Most students are bipolar: they have an online reality and a real world reality. And trying to manage both of those is overwhelming. And I have to have empathy and compassion for that because that's their reality: every day to come to high school and to sit in five classes and be good at it. You shouldn't have to be good in five different subjects. In life you just have to be good at one. It's okay to be average in a couple of classes. Find your passion and exploit it. Dominate that passion. Students shouldn't have to feel like they need a 4.0 GPA because with that comes the lying, stealing and cheating. They become not interested in learning, but ultimately interested in just getting a grade because it's going to satisfy some box in somebody's life that they could care less about. So it has to be fun. If I can make it fun, then I have a vehicle to get somewhere into their lives. I've got to find a place for myself in there. For them.