Menchie's takes yogurt to a new level
Parmis Sahrapima, Web Co-Editor-in-Chief
Menchie's might be just another yogurt shop, but its unique way of delivering yogurt to its customers gives it a quality far different from other yogurt shops. Menchie's offers a unique system that allows customers to mix and swirl their own flavors together and to pick as many toppings as they desire from dozens of selections. Located on 9609 Santa Monica Boulevard, Menchie's has become an attractive and popular social spot for teenagers wanting to get a taste of something delicious at a reasonable price.
Menchie's yogurt bar contains a variety of flavors that are changed about three to four times every week. These flavors, which come in pairs indicating that they can be swirled together, include pumpkin and angel food cake, mango sorbet and pistachio, carrot cake and dulce de leche, cake batter and original tart, chocolate and vanilla snow. Even though the yogurt bar offers specific flavors to be swirled together, customers can mix and match flavors in any way they please to create their own wonderful and delicious masterpiece.
While it might seem unexpected, Menchie's has a rather strict plan to the flavors it offers. There are four flavors which are never replaced in the yogurt bar. These include: cake batter, original tart, chocolate and vanilla snow. Furthermore, there are always two sugar free yogurts that are to the left of the bar, as well as one sorbet that is non-dairy. Thus, Menchie's efforts to provide an enjoyable time for lactose intolerant consumers as well as diet-aware or diabetic consumers earns them much respect.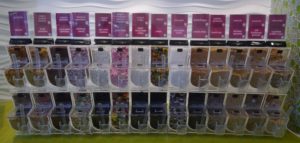 Menchie's also offers 40 different types of toppings, varying from candies, to nuts and to fruits. They also have a variety of fudges, including fat free sugar free fudge, milk chocolate fudge, caramel, and marshmallow. To find out more information about their flavors and toppings, visit www.menchies.com.
The yogurt shop also has a top refrigerator for drinks. The bottom refrigerator contains the daily special that is pre-packed, which is at the price of only $2.99, in comparison to the regular $6.99. Menchie's also offers yogurt with waffle cookies, which are sometimes offered for free as a part of special deals on specific days.
Menchie's is much more than just a yogurt shop. Employees make the yogurt-eating experience socially fun for younger kids by giving them pictures and crayon to color with. They later hang these pictures above their yogurt bar, allowing customers to see Menchie's appreciation for kids. There is also a Menchie's Corner where they hang pictures of stars who have been spotted eating from Menchie's, as well as kid and teen fans.
As Menchie's continues to become a social atmosphere for friends, people have come to appreciate the various and changing flavors offered by their bar, along with the smoothness that comes with creating one's own delicious dessert in any way possible.