Marty Schnapp staff writer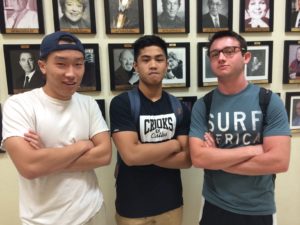 Reps for Mongols hopes to lift the international "burden of oppression" by lifting weights.
The club is still in its preliminary phase of development, and it is not yet fully approved to function on campus because it does not have a faculty sponsor.  But headed by seniors Raven Castro, Dan Park and Cameron Flagel, Reps for Mongols has already established its dual-purpose.
"We started this year with two goals in mind: to help the underprivileged and to make massive gains, and we thought of a way we could do both," Park said.
The club's founders, "brethren of the high order against oppression", target their oppression awareness mainly toward Mongolia's and China's causes.
"In the far away nation of Mongolia, millions of people are politically oppressed every day.  Now, here in Beverly Hills, a group of outraged teens will meet regularly to strengthen their bodies in order to spread awareness for the plight of the Mongolian people," Flagel said.
The club's current plan is to make sure that all of its members purchase ASB cards to form a partnership with ASB and potential financial backing.  The money collected with the help of ASB allows the club to perform its function as well as donate to charities supporting its cause.
"The idea is that everyone in our club would buy ASB cards to provide financial support for the use of the weight rooms, and we would ask ASB to allow us to donate 50 percent of [the money] to Amnesty International.  We were also thinking of holding events and fundraisers to have proceeds sent there," Park said.
The "brethren of the high order against oppression" hope to gather a group of student-members dedicated to lifting and helping others soon, because they feel that now is a good time to act on their cause.
"Right now, we're looking to help the people in Hong Kong, where many students are protesting for a more democratic government," Park said.
The club still has a few logistical and monetary decisions to make.  The club's leaders have looked into a membership fee, which is one way to raise money to support the club's cause.
"We may just charge a minimal fee like ten cents per week to go in the weight room," Castro said.
Castro believes that the club is not only a great way to stay in shape for upcoming sports seasons, but it is also a mental exercise.
"Through weight lifting, we can gain power and confidence in ourselves.  With those in mind, we can change the world," Castro said.
However, the club is not yet ready to begin lifting.
"We're looking for a teacher sponsor who could dedicate lunch time and any other time after school to look after us in the weight rooms and to further help our charity efforts," Park said.
The current members of Reps for Mongols feel that they are passionate toward an important cause, and they have come up with an effective idea to take action.
"Change is brought by strong people. Whether that be physical, political or educational, we're trying to hit all aspects," Park said.

Story continues below advertisement