Girls varsity volleyball falls to El Segundo in first league game
Ben Shofet, staff writer
The girls varsity volleyball team lost their first Ocean League game of the season to El Segundo on Oct. 2.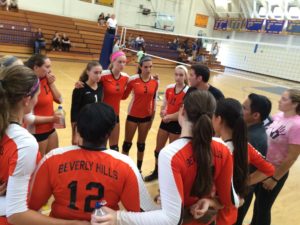 "We had heard that they were a pretty good team, but all of us were a little nervous. But when we started warming up and saw them play, we realized we were kind of on the same level," co-captain Paige Dubelko said.
The team was only one game away from victory, losing three games to two. According to co-captain Sara Neiman, the team had their "ups and downs" throughout the game.
"I feel like we could've beat them, but this was our first away game and we've never seen El Segundo play before…I think we were all a little intimidated, but we got close. I think at times we had our strong points and at times we had our weak points," Neiman said.
The team hopes to improve in the upcoming season by learning how to understand one another's style of play.
"I just hope we find our groove and how to play together all the time and in sync. When that happens we'll find a lot of success. I expect ourselves to have a very successful season," Dubelko said.

The girls varsity volleyball team will host their next league game against Lawndale on Oct. 7 at Beverly