ASB prepares for exciting, distinct homecoming
Guy Ginsberg, sports editor
ASB has been working this year to put together a Homecoming that will be a fun and worthwhile experience for students.
Junior Ohry Moosiki, Commissioner of Audio and Tech in ASB, said that Beverly will be putting our own twist on the traditional Homecoming.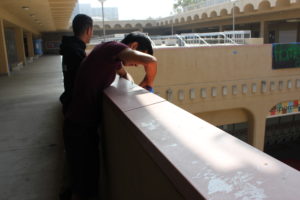 "I think it's going to be a different environment than most Homecomings, but that's why it's going to be so special and unique. It's going to be Fiesta themed and we have a lot to play off of the theme, like incorporating different aspects from the Spanish culture," Moosiki said.
However, according to junior Mishelle Arakelian, Commissioner of Graphic Design, preparation for Homecoming hasn't been smooth sailing, but ASB was able to move past problems and focus on planning the rest of Homecoming.
"We just had some issues with ordering the spirit packs, but they were quickly resolved within that committee," Arakelian said. "Since then, the preparation has gone as planned and we look forward to homecoming week and sharing our ideas with the school!"
While ASB has many ideas of their own, advisor Mark Mead wants to branch out to let students who aren't in ASB voice their ideas as well.
"We are hoping to get everybody excited and involved. There was a Nation/Summit meeting last week, where clubs, co-curriculars and sports teams sent representatives to talk about the upcoming Homecoming. We want input from as many diverse groups as possible. The point is to get buy-in from non-ASB, get fresh ideas, and ask for help from the Nation/Summit to generate excitement for the upcoming weeks," Mead said.
Homecoming will take place on Oct. 17, starting with a tailgate at 5 p.m., varsity football game against Hawthorne at 7 p.m. and after party in the Swim Gym DJ'd by Senior Cole Plante.