Bocchi, girls varsity tennis prepare for CIF
Karen Shilyan, reporter
Lucas Harward, writer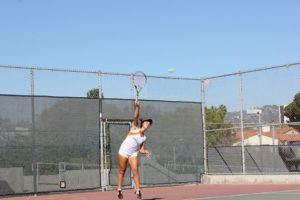 Girls varsity tennis player Martina Bocchi went undefeated in the CIF Individual league round, making her the only player this year to advance to the CIF Individuals tournament.
Bocchi, a junior, claimed she won all three of her matches fairly easily.
"The other girl wasn't that good, but I think I played well. My goals are to reach CIF and play well during the tournament and hopefully win. To prepare, I'll train like I'll always do. Training is pretty much everything," Bocchi said. "My mindset will be to play my best and try to win."
Singles player Katerina Stefanovic, who competed alongside Bocchi at the League Individuals tournament, was defeated in the quarterfinals.
Varsity tennis coach Mike Margolin looked ahead to the CIF team round, which is occurring the week of Nov. 3.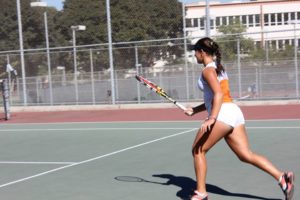 "Right now, our main goal is to get through the first round. I know it's a cliché but we've always had our best success not looking past what we have," Margolin said. "We have to wait and see who we play first round, focus on that one and get by that one. Then we'll focus on the next one."
Margolin also pointed out what the team will focus on during their preparation process.
"We've concentrated a lot in our double play. A lot of our girls don't have a lot of experience this year playing with doubles, so this year a lot of them will be playing their first varsity match. We play pretty good schools, so the pressure is definitely there for them," Margolin said.