Girls varsity tennis fail to advance in CIF Semi Finals
Karen Shilyan, business manager
Varsity tennis players Martina Bocchi, Katarina Stefanovic and Lolita Gorbacheva advanced from Quarter Finals of CIF on Monday to compete in Semi Finals which took place on Wednesday. They each celebrated a win against their competitors.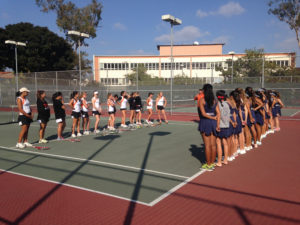 Varsity tennis singles player Martina Bocchi was proud of what they accomplished.
"It was a great feeling to make it to the Semi Finals two years in a row," Bocchi said. "Also knowing that we had a good chance to make it to finals was amazing, too."
In an earlier interview, tennis coach Mike Margolin claimed that he had many players who would compete in doubles for the first time and that they had little experience before hand. Varsity tennis player Lolita Gorbacheva believed that her teammates met the mark.
"[Winning quarter finals] felt great, everyone really bonded over that win and grew closer together. Our doubles players really stepped up and did a good job,"  Gorbacheva said.
Bocchi prepared for the competition with a humbling mindset about her future matches.
"I was trying to focus on one match at a time. Trying not to underestimate my opponent and just try and win," Bocchi said.
After advancing into Semi Finals, the varsity tennis players compete on Wednesday and lost with a score of eight to ten, ending their journey throughout CIF.
Bocchi shared her sentiments after the loss in CIF.
"Although we did not make it to finals, we did our best," Bocchi said.
With CIF behind the team, they await results for the pending State competition.