Parmis Sahrapima, Web Co-Editor-in-Chief
The SM Town Live World Tour III kicked off with their first appearance at the Honda Center in Anaheim, CA on May 20. The concert included all of the different groups under SM Entertainment: BoA, Girls' Generation, f(x), SHINee, Super Junior, TVXQ!, and the newly debuted EXO. Fans came to the event carrying self-made posters and wearing T-shirts in support of their favorite bands, along with glow sticks that were specific colors for each group.
The event attracted a wide population of different ethnicities, and the hosts themselves did not fail to inform the audience of how great music was for bringing people of different cultures and regions under one single roof. The concert created tremendous excitement and uproar as the famous SHINee began the concert with their most famous and electrifying song, "Lucifer." The concert then continued with each KPOP group taking turns singing two or three songs at a time.
The event blasted off with great intensity and did not fail to satisfy its fans until its great finish. Groups like SHINee and Girls' Generation altered their songs from pop to rock, bringing even greater excitement to the crowd as red laser light beams worked their effects while the SHINee group members banged their heads back and forth in a manner very unusual in KPOP. Super Junior also gave a majestic performance with their awesome dance choreography surrounded by spraying water.
Story continues below advertisement
The collaborations created great excitement within the audience, some of these including the romantic collaboration between Luna from f(x) and Onew from SHINee, singing "One in a Million" from "High School Musical." Members from Super Junior and f(x) joined to sing their fun song "Oops!" The playful E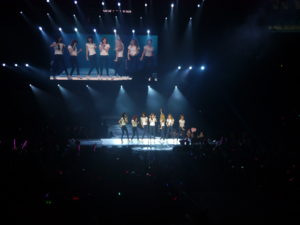 unhyuk and the handsome Donghae, both from Super Junior, also sang their famous disco song "Oppa, Oppa," bringing back the colorful clothing, fashion, and moves of the 1980s.
SM applied a great amount of effort to Americanize the concert by providing the audience with translations and having one or two members from each group speak or attempt to speak in English. The English trend continued moving forward as Jessica from Girls' Generation and Krystal from f(x) sang Katy Perry's "California Girls" in English. The collaboration between f(x)'s tomboy Amber, EXO-M's Kris, and SHINee's Key also brought loud cheers from fans as Kris and Key made their way to the stage through the crowd, singing "Like a G6."
TVXQ!'s Changmin and Super Junior's Kyuhyun created a huge and intense upheaval among fans as they invited an American teenage girl on the stage, had her sit on a chair, and sang Bruno Mars's "Just the Way You Are" to her. The uproar continued as Kyuhyun got on his knees, held her hand and sang to her from the right side, while Changmin did the same from the left. The solo singer BoA, known as the Queen of Korean Pop, also performed her internationally famous English songs "I'll Eat You Up," "I Did it For Love," and "Energetic."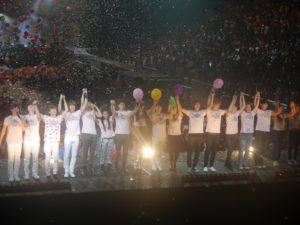 After the groups had performed all of their most famous songs, the SM family united hands and bowed before their audience. They then walked in pairs through erupting balloons and confetti, and walked to other parts of the extended stage to wave goodbye to their fans. Hundreds of fans crowded the stairs to take pictures of these idols and to wave goodbye to them as they cleared the stage. SM Town will continue its world tour with performances in Taiwan, Japan,  South Korea, and China. Next year they will hold their fourth world tour, with performances at different locations. For more information, visit  www.smtown.com