Student succeeds as Miss California Teen
Since the age of 10, junior Ora Kohan has actively participated in the National American Miss, a pageant for teen girls that takes place across the country. During the summer, Kohan was named Miss California Teen and ranked Top Five in the national competition.


Contestants in the competition are judged in three categories: interview, personal introduction and formal walk. According to Kohan, physical beauty is not a factor by which competitors are judged.
Kohan expresses that unlike other pageants, the one in which she participates helps girls gain confidence and grace.
"In interview, the judges ask you random questions that you don't know, so you have to really think on your feet," she said. "And to be a good public speaker,  you have to be really good with people so that you can communicate with the judges. They are looking for someone who has confidence and poise while they speak."
To prepare for competitions, Kohan had her mother conduct several mock interviews. For the formal walk, Kohan practiced walking in high heels. In this area of competition, contestants are judged on their ability to walk across the stage in a formal gown.
"I would get a bunch of sample questions from online and have her [Kohan's mother] sit down with me and practice," Kohan said. "And I practiced in my heels as much as I could because I really didn't want to fall on my face on stage."
Kohan's favorite aspect of the competition was the personal introduction.
"I always had personal introduction in the bag because I've never had a problem with public speaking," she said. "It's just all about memorization."
Winning the competition this year has been extremely meaningful to Kohan, especially when she looks back at all of the times she was unhappy with her score.
"I kept trying year after year after year, and placing top 15 really sucked. I made so many friends there, and seeing them all place higher than me was really discouraging," she said. "But for me to keep going back and trying my hardest is what means a lot to me."
When Kohan felt the weight of the competition might be too much, her friends and family continuously supported her.
"There were times when I thought, 'Oh, this isn't for me,' and my friends and family were always there to remind me how far I've come," Kohan said. "Without them I really don't think I could've won my state title."
There are many misconceptions Kohan thinks affect people's perception about pageants.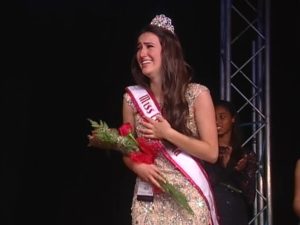 "The first misconception is that it's all about beauty and all the girls are stupid, which absolutely is not true," Kohan said. "You can not be just beautiful and go to a beauty pageant and win. It's really all about poise, confidence and how well you're educated on the world around you."
Overall, Kohan feels the competition has sparked a positive growth in her character.
"I feel like I have gained so much confidence from this system and I've learned not to give up," she said. "Getting first place, that feeling of being successful and working hard to achieve my goals, was one of the best feelings of my life."