From Salter to Broadway: Jonathan Silverman inspires Normans
Jackson Prince, co-editor-in-chief
The students of the Performing Arts Dept. were graced by a visit from alumus Jonathan Silverman on Tuesday. The actor/director talked to students during lunch, as well as Madrigals during sixth period.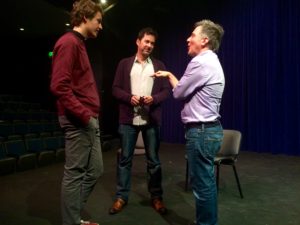 Silverman, who was an active member of the department in the early '80s, performed in the various plays, musicals and festivals during his time. When asked about his favorite role in high school, Silverman surprised students, telling them that he was not a leading actor in the majority of the shows.
"I never had a part! I watched, I learned," he said.
During his upperclassmen years at Beverly, Silverman would perform five-minute scenes during Thursday Theatre sessions, in which students were welcome to try out new material in front of their peers and teachers. In the crowd one day happened to be an agent, who asked if Silverman was willing to audition to replace an actor in a New York play.
"Acting was just a back-up plan at that point," he said.
As a senior, Silverman was flown out to New York City and landed the lead role, Eugene, in "Brighton Beach Memoirs" on Broadway, replacing Tony-Award Winner Matthew Broderick.
"I went from the Salter Theatre stage, which I thought was the pinnacle, to a stage where 1500 people were paying a lot of money to see me eight times a week," Silverman said. "I just didn't want to screw it up."
From there, Silverman, whose plan was initially to attend college, began his professional career. He starred in the movie "Brighton Beach Memoirs", as well as "Weekend at Bernie's". He then remained a working actor, landing roles on stage, television and film.
"It never gets easy," he said. "You're always on your toes, no matter what level of success."
Silverman, who was close with David Schwimmer from "Friends" during his time at Beverly, advised interested Normans to be nice to everyone, as they may not know who may become something big.
"My friends who I looked up to when I was here found success as actors and writers and producers and directors and creators. It's not just about performance. Sure, the performance is magic, but take advantage of everything you get [at Beverly] and run with it," he said.
Theatre Arts Director Dr. Brad Vincent directed "Brighton Beach Memoirs" several times in his career, and took the opportunity to have a "fan moment" with Silverman.
"You never know when a show you watch gets in your heart and stays. That play, having directed it and seen it multiple times, it's such a brilliant piece. You'll always be my quintessential Eugene," Dr. Vincent said.
Theatre Arts has hosted several alumni professionals "in the business", including Pat Cassidy (who originated The Balladeer in Sondheim's "Assassins"), John Turtletaub (who directed the "National Treasure" movies), Phinneas Newborn III (who performed in the national tour of "A Chorus Line" as a senior) and E.G. Daily (who voiced Tommy Pickles on "Rugrats" and competed on "The Voice").
Joanna Gleason (who won the Tony Award for her role as the Baker's Wife in "Into the Woods") is scheduled to host a talk in the Salter Theatre on Friday, Jan. 16, during lunchtime and seventh period. The event is open to all.