Girls varsity soccer defeated by El Segundo
Lolita Gorbacheva, staff writer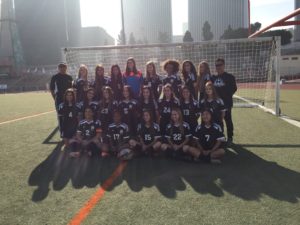 Girls varsity soccer lost to El Segundo on Friday, Jan. 1 and will play their next game at home on Wednesday, Feb. 4 against Hawthorne High School.
"We played fairly evenly with the other team so it was not that they were amazing, but more that they got lucky goals and we were unable to score," center midfielder Carli Stein said. "Our team needs to work on commitment because it is hard to practice specific team drills when everyone on the team is not present. We also need to work on taking more shots and finishing to score."
Nine players, four of whom are starters, suffered from illnesses and injuries according to Stein. The team played with fewer regular starters and had to use some JV players.
"We were missing players which caused many people to play in positions that they were unaccustomed to playing. With everyone playing different positions we weren't able to practice the team skills we had worked on in our positions in practice," Stein said.
The team is out of contention for the playoffs, but will continue out its season in the Ocean League.