Seniors create student-friendly tutoring business
Lucas Harward, staff writer
Seniors Daniel Newman and Aaron Boudaie are the founders of TutorYou Beverly Hills, a self-run tutoring business, which launched in December of 2014.
Newman, an El Rodeo graduate, and Boudaie, a Horace Mann graduate, hope to separate their business from the competition with their insider experience in the Beverly Hills school system.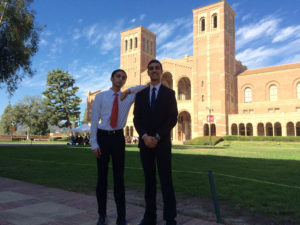 "I noticed that a lot of parents hire tutors who are college graduates that don't necessarily understand the curriculum at hand, so we decided to create TutorYou BH to cater to the elementary and middle school students, since we graduated middle school in BHUSD ourselves," Newman said. "We're very familiar with the curriculum and can teach the students while giving them a very comfortable environment to work in."
The two friends also charge prices that are, they believe, lower than other tutoring businesses.
"Because we're high school students and we're not supporting ourselves, we're able to charge affordable prices," Boudaie said.
Newman and Boudaie are currently the only tutors for TutorYou; however they are not opposed to the idea of expanding.
"Right now our focus is on serving as many students as possible, but, looking forward, if we have too many students for us two to handle, we'll look to hire new tutors to help us out," Boudaie said.
And as their days at Beverly come to a close, they will have to address the future of TutorYou BH for when they graduate and possibly leave Beverly Hills.
"I'm hopeful that we can go to universities nearby and continue running the company, but we haven't given much thought to it because we're focused on the present and serving our students. After all, this is just one of the ways we get to say thank you to our community and give back," Newman said.