Wrestling to host league finals for first time in history
Ben Shofet, graphics editor
For the first time in its schools history, Beverly's wrestling team will be hosting league finals on Feb. 12 in the Swim Gym. For coach Ryan Faintich, this is more than just hosting league for the first time. Faintich hopes to publicize the tournament to the entire school in order to help the sport gain some recognition among the athletic community.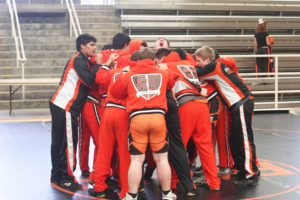 "I am tremendously excited because it's a great opportunity to showcase the sport of wrestling in front of BHHS," Faintich said. "I think the first steps is to kind of get our culture and our school aware of how great wrestling is as a sport and how cool it is to watch. And having our league finals for, literally the first time in our history, is going to be a really great opportunity for our school, but more importantly our wrestlers to wrestle in front of their home crowd and perhaps advance to the playoffs."
Many of the wrestlers also feel that hosting league is going to be a great advantage for their upcoming matches.
"I'm feeling really excited since it's the first time we are going to have league finals at Beverly. Through my past years at high school I've had to go to other schools to wrestle and now that it's at my own school I'm going to feel a lot more comfortable," varsity wrestler Mohamad Sadeghi said.
However, hosting league brings different challenges than other tournament.
"It takes a lot of prep because we need to have a lot of mats from a lot of different schools. We also need to get scoreboards and other stuff like that," Sadeghi said.
The wrestling program is feeling the pressure to prepare both physically and mentally for their upcoming tournament.
"I'm very excited. I know we are going to do very well and I encourage everyone to come out and watch us win," varsity wrestler Samuel Cohen said. "But we need to be more mentally and physically in shape because we will be at home."