Karen Shilyan, business manager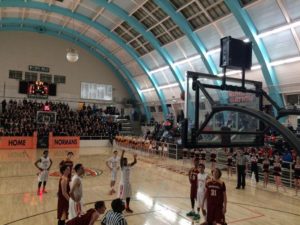 Boys varsity basketball is moving on to the 2015 CIF Championships after beating Esperanza High School 54-49 on Friday, Feb. 27. The CIF Finals will take place Friday night at 9:00 p.m, at the Azusa Pacific University Felix Event Center. The arena has a capacity of over 3,500 people.
The Normans, ranked 64th in the state, will play the Corona del Mar Sea Kings, who are ranked 75th. The Normans are going into the Championship game undefeated and hope to maintain their title.
The last time Normans played in a Championship game was in 1969, so players feel the honor, as well as the pressure, of coming so far once again.
"[Getting to the Championships] makes me feel that all of the hard work myself and my team have put in the past four years has payed off," shooting guard Ryan Manoocheri said.
Last season, the team lost the playoff game against Yorba Linda. Since then, there has been massive improvement in the cohesiveness of the team.
"Most of us have been playing with each other since freshman year. We are more together and are a tighter team then we were last year," point guard Navid Refalian said. "We are working hard at practice everyday, we are pushing each other to get better and we are going over the gameplan to know what has to happen for us to win."
Many students and faculty have noticed that the game is starting late; however that won't stop the Normans from attending or from playing their best.
"Doesn't bother me. It's the championship game; I'd be excited to play even if it was at midnight. I just want to play," Manoocheri said.
Hopes, as well as expectations, are high for this tell-all game. For the class of 2015, it is the last high school basketball game that they will attend. For others, it is merely the beginning. However, spirits are high and the players are confident in their skills.
"It's been so exciting watching the basketball team improve and I'm so proud I get to watch them come so far during my last year of high school," senior Shawna Mashian said.
"We need to play hard, smart, and within ourselves. Championship games tend to get players a little too excited and can result in players playing out of character. If we just focus on ourselves and play our game, I'll take my chances against anyone," small forward Eman Rafalian said.
"The basketball team this year is the best I've ever seen it. I'm confident we'll win. We're unstoppable," senior Aaron Boudaie said. "I'm also excited to see Trevor Bergher play. He is simply unstoppable and the best shooter out there. He makes threes like they're lay-ups. That's why he's so exciting to watch."
Students can purchase a combination of the ticket to the game and rooter bus for a total of $15 at the student store during nutrition and lunch. Rooter buses will leave the Swim-Gym at 4:30 p.m. and hope to return to Beverly by 11:30 p.m. Students have the alternative option of purchasing tickets to the game separately, also at the student store. Come out to show support for your BevBall family on Friday night.
Story continues below advertisement