Boys tennis serves Harvard-Westlake loss
Jackson Prince, co-editor-in-chief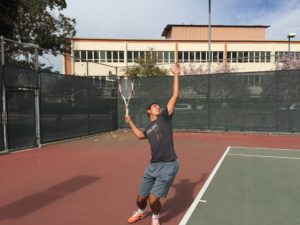 The boys varsity tennis team defeated Harvard-Westlake, 12-6, in "dominating" fashion, according to senior Lucas Harward.
"We had clinched the match by the end of the second round," he said. "We won each of the first two rounds 5-1, which gave us 10 overall points to have already won it all by the beginning of the third round."
The team had to step up their game for this match with Harvard-Westlake, who has been competitive in the past.
"We knew that the only way we'd be able to win was to come out firing with our best effort, so we made sure to keep our energy level above theirs," senior Emilio Yera said.
Highlighted by the play of Yera, senior Jonah Malkin, junior Johnny Barcohana and sophomore Jack Harris, the tennis team is confident about their prospects, despite this being their first year competing as a D-I team in CIF.
"I think we have a really good chance of going deep into CIF and maybe even state if we keep practicing and working hard on and off the court," junior Adriano Saitta said.
The 5-1 Normans will host Santa Barbara today at 3 p.m.