Where to eat now: Rankings of the best in LA
Juliette Deutsch, co-editor-in-chief
1. Scopa Italian Roots
2905 W. Washington Blvd
Venice, CA
Spacious, brick-walled and leather-lined booths filled with satisfied customers is Scopa Italian Roots. Trained at Spago, chef Antonia Lofaso (who just so happens to be the older sister of Beverly alumnus Anthony Lofaso) understands high standards of Italian cooking, which Los Angeles has lost. Lofaso's take on Italian-American fusion is innovative, classic and worth Scopa's long waiting list. Dishes are served in cast-iron skillets and in non-traditional Italian presentations. Lofaso's twist on the classic squash blossoms mixes ricotta and mozzarella into the filling for more stringiness. In the eggplant and caper caponata, she adds the perfect amount of crunch with roasted almonds.
The Vibe: Relaxed, but upscale atmosphere.
Must Have: The Hazelnut-Zabaione dessert.
Getting a Table: Reservations are only made by phone Thursdays-Saturdays.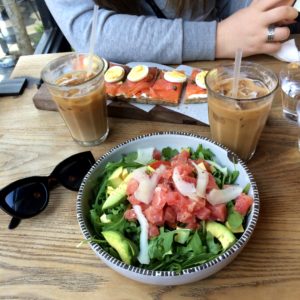 2. Zinque
8648 Melrose Ave
West Hollywood, CA
If you have been an LA foodie for a long time, you know that this tucked away spot on Melrose used to be the renowned Nishimura Sushi. Long before Sugarfish or Sasabune, Nishimura was one of the best Omakase sushi bars in the city. Today, the spot is occupied by Zinque, a European-style cafe founded by Emmanuel Dossetti. The eatery serves traditional European cafe items such as tartines, oysters and cheeses to go along with La Colombe Coffee. Besides Zinque, La Colombe Coffee can only be found in New York on Lafayette Street, so it's definitely worth the try. Zinque also has a variety of vegan and vegetarian options. The ambiance is open, airy and perfect for a group.
The Vibe: Upscale European coffee shop atmosphere.
Must Have: Avocado, Comte, Tomato and Ahi Tuna salad. Goes perfectly paired with a La Colombe Iced Latte.
Getting a Table: First come first serve basis, reservations are available for dinner guests.
3. Sushi Tsujita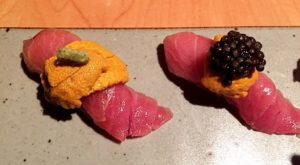 2006 Sawtelle Blvd
Los Angeles, CA
Los Angeles, especially Sawtelle Boulevard, is known for its array of Japanese cuisine amongst foodies in LA. However, if you're looking for Omakase style sushi, it is not easy to find. The standard of excellent omakase sushi can be found at sushi bars such as  Neta or Sushi of Gari. These sushi bars have a no substitutions menu and resemble the true Omakase experience. Sushi Tsujita, however, got it, and it's right here in our backyard. At Tsujita, the must-have dishes are the albacore belly topped with uni, and the toro sushi special. However, since all items are served Omakase, these come with every Omakase meal.
The Vibe: Traditional sushi restaurant with an LA foodie scene.
Must Have: The Toro sushi with caviar.
Getting a Table: Operates on a first come first serve basis.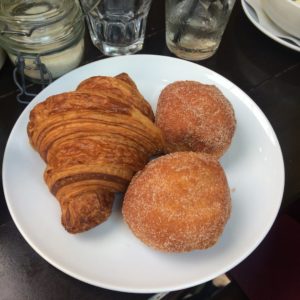 4. Republique
624 S. La Brea Ave
Los Angeles, CA
Republique, built in a key LA location, lives up to expectations. Walter Manzke and Bill Chait (also behind Short Order and Bestia) opened Republique in November 2013. The location on La Brea Boulevard was originally owned by Charlie Chaplin, when the central room of Republique was a courtyard. The space is lined with communal tables, bar stools and high ceilings. Morning customers at Republique can be found traipsing past an array of delicious pecan sticky buns, fresh croissants, beignets and lattes to accompany their pastries. Their pastries have a just-baked feel. The Republique lunch scene is equally as tasty. Manzke serves an agnolotti, a type of pasta stuffed with sweet butternut squash and mushrooms, topped with freshly shaved pecorino.
The Vibe: Casual and inviting.
Must Have: Vanilla bean beignets.
Getting a Table: First-come, first-serve basis and communal tables available.