Ben Shofet, graphics editor 
The boys varsity volleyball team fell one game short of first place in the fourth annual Antelope Valley tournament in Lancaster on April 18.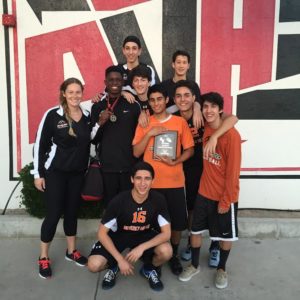 Due to its conflicting date with prom, many of the team's seniors were absent. Ibraaheem Agaba was the only senior present at the tournament.
"As a captain on this team, I was honestly feeling skeptical going into this tournament because I was the only senior able to go, but early on, after seeing the younger players on the team step up to the plate, my doubts were reassured and my confidence was confirmed," Agaba said.
Freshman Ron Snhe-Zanna was put on varsity due to the fact that only seven out of the team's 13 showed up.
"It was really impressive seeing Ron, who usually plays recklessly with JV, control himself and really get his act together on the court," opposite hitter Guy Ginsberg said.
In the tournament, the team won first in their group, which earned them a first round bye in the winners' bracket. In their game versus Vasquez High School, Snhe-Zanna managed to unintentionally injure two players, who happened to be brothers, knocking them out of the tournament.
Beverly won their first two games of the playoffs against Desert Christian and Knight High School.
"When I walked in the gym that morning, I was confident that we would go all the way and take the trophy home," outside hitter Jared Miami said.
In the championship game versus the number one seed of the tournament, Quartz Hill, Beverly lost 25-16, earning them second place in the entire tournament.
"I feel very confident that we can make some noise next year," passer Daniel Bina said, reflecting on their loss without having half of their team present.

Story continues below advertisement