[youtube http://www.youtube.com/watch?v=6wcc32_Efsw]

Lauren Hannani, cub writer
Sydney Tran, cub writer
As the Olympic games of 2016 approach, one particular student dives into practice in order to qualify in the global sporting event. Training and competing her way to the competition, junior Amy Okada hopes to earn a spot on the United States Olympic swim team next year.
Since the age of nine, Okada has swam toward the goal of becoming a part of the Rio de Janeiro 2016 Summer Olympics. Beginning swim lessons with the Beverly Hills Thunder Sharks team, she gradually grew to love the sport. However, she did not find swimming to be very entertaining at first. The strenuous practices that she endured during the new lessons did not win her over immediately.
"My sister just wanted to start swimming lessons, so she took me. I didn't really like swimming but I just tried it. I hated getting my face wet and I was scared I was going to drown," Okada said.
Eventually, she adjusted to the nature of the sport and its high level of demand, and swimming became more than a mere obligation.
"After I started getting better, I enjoyed it. I like racing and being with friends and meeting new people," Okada said.
With inspiration from her swimming muse, four-time Olympic gold medalist Missy Franklin, Okada strives toward qualifying for the Olympics.
"Missy Franklin [inspired me to try out for the Olympics] because she won the Olympics at age 16. It's always been a dream of mine ever since I started to like swimming and watch the Olympics," Okada said.
Okada is now on the road to Olympic qualifications and is preparing to compete her way up the qualification tiers.
"I'm qualified for the Olympic trials and, from there, the top two of each event makes the Olympic team and gets to swim there. I qualified in one event, but I want to qualify in more events and when I get there, I want to try to make finals and try to go for top two," Okada said.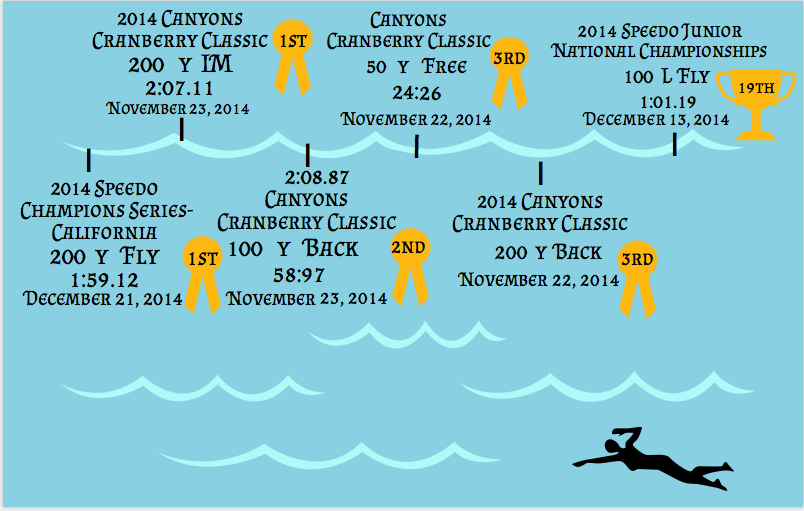 In order to strive in the sport and accomplish her dream, Okada has restructured her lifestyle and schedule.
"I make sure to try to not eat unhealthy foods and try to stay hydrated before meets and stretch a lot," she said. "I have morning practice Tuesdays, Thursdays, Saturdays, and Sundays and those are from 5 am to 7 am. In the afternoon, from Monday through Friday, [I practice from] 4:15 to 7. Then on Sundays, it is 9 am to 11 am. On Saturdays, it is 6 to 8 in the morning."
Since Okada keeps a busy schedule on her calendar, she has learned to efficiently manage time and organize. Although swimming is an important part of her life, she prioritizes her education over swimming.
"Swimming definitely takes out a lot of my school time to study so it's kind of hard to keep up with school, but sometimes I take a break. [For example] I miss one practice to catch up on my work," Okada said.
Although Okada encounters difficulties with balancing her school work and her swimming practices, the sport has greatly shaped her social life and work ethic.
"Swimming also helps me become more social and meet new people and meet a lot of new friends which I really like. My favorite thing is probably working hard. I enjoy hard work because at the end I know it will be worth the pain. No matter the pain, it can't be compared to the success and glory from past experiences," Okada said.
Setting goals for herself and enjoying swimming every day is what motivates Okada to succeed. As a result, one of her biggest accomplishments includes her devotion and dedication to swimming.
"[Winning] shows me that I've worked hard and earned the way I trained. I think my biggest accomplishment is that I continued to do this sport and also that I can push myself to the limits and achieve my goals," Okada said.
What she considers to be her main achievement in swimming, however, is not her competitive times, but rather a more emotional aspect of the sport.
"I've motivated a lot of other people to continue their swimming because some people were really talented, and they wanted to quit, but I helped them want to continue."
Overall, Okada feels very excited and thankful for having the opportunity of competing for a place in the 2016 Summer Olympics.
"I am so fortunate to be able to train and grow and get faster and be able to get to this level. I wanted to be a bigger part of swimming and take on the next level, which is the highest level," she said.
Okada's determination and dedication to swimming has allowed her to have an outlet through which to relieve stress and to which she can devote her time and effort.
"Swimming helps me escape from school," Okada said. "I can just think about focusing on swimming and that makes me forget about everything else. I like that feeling."
Story continues below advertisement