Robotics led by veteran students
Veronica Pahomova staff writer
Twelve veterans have taken on the responsibility of running the extracurricular Robotics program since no replacement  for Maria Santa Cruz has been found. Until the school board finds a replacement, these students have agreed to step into their leadership positions and take charge of the team.
For the past five weeks, Ben Heller, David Baum, Deborah Newman, Farbod Rafezy, Lauren Scheide, Maya Luong, Noah Danesh, Randy Schmidt, Richard Liu, Stephan Kim, Will Kim and Yu Jin Kim have all divided their power and set their positions based on which subsection each individual takes part in.
Robotics Co-President Deborah Newman oversees the business subsection, which is in charge of planning events and fundraising, along with many other diverse jobs such as finding mentors and contacting numerous companies for grants.
Newman, however, takes it upon herself to "train newbies", take charge of the major events, make sure all pre-season events are completed, mark for attendance, hand out assessments, assign projects and write an essay to win the prestigious Chairman's award.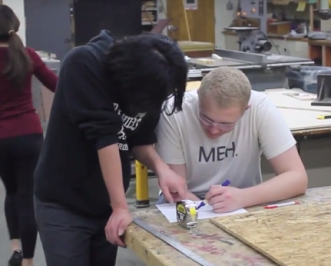 "Being a leader definitely has its responsibilities," Newman said. "I love what I do. What's probably most frustrating is trying to do everything the team wants to do in such a short amount of time."
On the other side of main building, Randy Schmidt and two other leaders take charge of the "build team", who are in charge of designing and fabricating the robots for competitions. Acting as a mechanical supervisor, it is his job to teach new members all of the basics, like how to use tools safely and responsibly.
Grading wise, the ones in charge have a responsibility to create and distribute assignments as well as take attendance, but they do not decide or input grades. That job is left for someone with higher authority (who has yet to be assigned), since nothing has needed to be graded.
"We are still students in the class so we're not allowed to grade the other students, but we observe and actively judge them and pass said observations onto the person who can grade," Schmidt said.
And though they are fellow classmates, the teams tend to pay much attention and obedience to the many head students.
"Since leaders are respectful of robotics members, the members show us the same respect," Newman said.
It's only the first semester, so the flow of work and progress has been steady and approached with baby steps by the student bosses. However, once second semester rolls around, the pressure is on to design and build, who will be able to compete in events and perform specific functions, all in only six weeks.
"Not only is robotics' season stressful, but all members still have school on top of it, which can become overwhelming for all the members of the team, not just the leaders," Schmidt said.
For now, the student leaders are holding on to their title until further notice. They addressed that administration is working very hard to find a new teacher and they are hopeful they will have one soon.
Even though they consider themselves occupied with the equal amount of work Cruz, they are not expecting any form of praise or payment.
"Though it would be nice, it is not something I need. I would keep this leadership position regardless of being paid," Build Observation Leader Yu Jin Kim said.
Out of the goodness of their hearts and dedication to see their team succeed and thrive, the 12 captains work together to keep the aura not only safe and serious, but also fun and enjoyable
"Although having this position might be just as much work as a real job," Newman said. "What I do is for my community, not for myself."