Students devoid of Norman Nation pride
Eleanor Bogart-Stuart staff writer
It's no secret that the students at Beverly are lacking in spirit. On our spirit Fridays, you'd be hard pressed to find even a glimpse of orange in the hallways. At our football games and other sports events, the stands are close to empty. It seems like students have simply given up.
"I think that Beverly is an amazing school with amazing kids. More students can and should definitely come to more events and games," junior ASB member Ryan Neydavood said. "One thing that students don't realize is that we're in high school once, and we won't be able to do it again."
Neydavood's perspective is one that is not common among the student population. For some reason, it's now in fashion to mock our football team and scoff at spirit days. When did this mockery become "cool"? Since when did taking pride in your school become so taboo? In movies like "High School Musical", "Grease" and "A Cinderella Story", participating in and enjoying school events are just part of being a student. And if Hillary Duff likes doing it, then why shouldn't you?
"For me personally, school spirit is dead because of the lack of 'things' to actually be excited for. But for the small number of school events that do exist, I usually just feel as though I have something more productive to do," an anonymous junior said.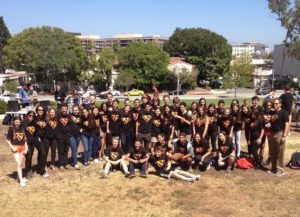 It seems that students have forgotten how fun it can be to support their school. But not everyone has forgotten, at least not yet.
Last year's CIF championship winning basketball team proved to be a powerful force when it came to actually showing some spirit. During basketball games, the swim gym wasn't sparsely populated like it was at most swimming or volleyball games- it was chockful of orange-clad students/fans. This proves that not only are we capable of being supportive of our school, but we are also good at it.
You may be wondering how this article will make any difference in the way students treat our school. It won't. The change all starts with you. It's up to each and every student in this school to contribute some tiny piece of spirit. No matter what your definition of "spirit" is, from wearing a shirt to joining a club, anything and everything makes a difference.
We are the Norman Nation, and we should be proud of that fact. We have a gorgeous campus. We have a gym that is literally famous around the world. We have sports teams and athletes that win awards for their excellence. What is there not to be proud of?
Yes, it's true our school's colors are entirely Halloween themed. Yes, it is also true that our name also happens to be synonymous with the ancient Scandinavian and Frankish warriors from the 11th century. But, if anything, we should channel the spirit that this holiday and these warriors have. We should be proud of our school and of our fellow warriors/students.
It's up to you to wear that orange shirt.
It's up to you to attend pep rallies.
It's up to you to go to football games and cheer on your team.
It's up to you to take pride in being a Norman.