Nutella Mocha: Fall-ify your coffee
Vivian Geilim staff writer
When the weather begins to change and the autumn leaves start to fall, there is nothing better than adding a few spices and ingredients to your morning coffee. Here is a new recipe on how to fall-ify your coffee without the same-old same-old pumpkin spicing.

Ingredients on how to make a sweet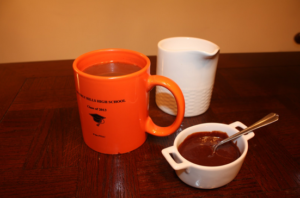 Nutella Mocha:
1 medium mug
1 small bowl
Two tbsp. of Nutella
One tbsp. of Cream
One tbsp. of Whole Milk
one tbs. of Cocoa Powder
One tbs. of Vanilla Extract

Amounts vary on your favor
Serves one to two people
Brew your coffee and place in mug
Grab the small bowl and add

two tbsp. of Nutella
one tbsp. of milk

Put in Microwave for about 15 seconds
Stir warm Nutella and milk mixture well
Add one tbsp. of cream
Stir
put back in the microwave for 15 seconds
Stir until substances are melted and liquified
Add half a tbs. of vanilla extract and one tbs. of cocoa powder
Fill your mug with your favorite coffee, pour the Nutella syrup and enjoy!
Tastes best if you top it off with steamed milk.