Water polo unable to stop El Segundo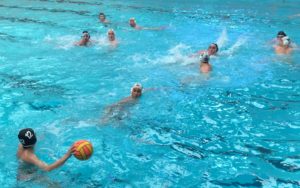 Marty Schnapp co-edit0r-in-chief
Varsity boys water polo suffered a 21-4 loss to El Segundo in the Swim Gym on Wednesday.
The matchup was the first of the league season, leaving the team with an 0-1 record so far.
"We need to be faster and smarter. They beat us back on offense every time and were
able to score with ease," starting set Joshua Fouladian said.
Varsity co-captain Kyle Mehrian scored all four goals. He feels that the team moved toward improvement as the game progressed, especially as the juniors in the pool became more comfortable.
"Having three new starters is going to take time to get used to, and our lack of seniors and experience hurt us badly," Mehrian said.
Water polo's next game is at Culver City High School on Friday.
"El Segundo is a great team, but we have to put it behind us and focus on Culver," Mehrian said.