Steps toward sexual violence prevention, increased sexual education taken through new bills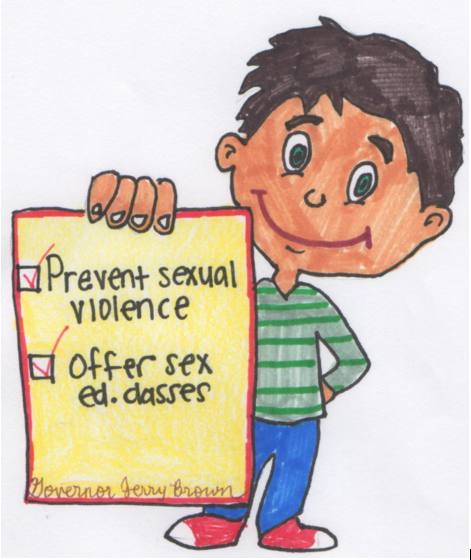 Jamie Kim staff writer
To educate high school students about the dangers of sexual violence, California governor Jerry Brown signed a bill focused on this pressing issue on Oct. 1.
This bill requires high school health classes to teach students how to prevent sexual violence, especially because of the rising numbers of sexual violence reports on college campuses. This new mandate will affect Beverly, as the current juniors and seniors are required to take health before they graduate.
"I definitely support Governor Jerry Brown's proposition. I believe Health Education is a necessary course for all high school students. It is an important class that teaches teenagers to make better choices and decisions for themselves," health teacher Heather Godin said.
Governor Brown also signed another bill that requires students to enroll in sexual health classes, with parental consent, because currently, health is optional. This was designed to increase awareness about how to prevent oneself from HIV and to include information about different sexual orientations.
"I think that these changes are good because by educating students about these topics; it will allow them to become more socially aware and informed about these current issues," junior Veronica Karlin, who is currently taking health, said.
Beverly currently implements the policy that starting with the Class of 2018, health classes will be optional. The only law it had to follow was that it had to teach students about AIDS and other sexually transmitted diseases, which were all included in the biology curriculum. However, starting Jan. 1, these health classes will become mandatory again.
"I feel that health is an important subject to learn. There is really no other subject that could replace it, and it is a class that everyone can use after schooling. With that being said, however, I don't really want to cut out an academic class in my schedule for health," sophomore Rebecca Regwan said.
The reaction toward Governor Brown's new bills regarding the addition to the curriculum and the requirement of health was generally positive, though.
"I was extremely pleased to see that Governor Brown had signed the two bills. I do believe we have a social responsibility to ensure that our students receive current and accurate information regarding sexual reproduction and their overall health in order for them to make informed decisions," former health teacher and current Medical Science Academy coordinator Colleen Lynch said.