Artest III a welcomed face to Beverly basketball
Guy Ginsberg co-editor-in-chief
Fans of Beverly's varsity basketball team have grown accustomed to seeing some high quality big men lead the team to league titles. In years past, it was center Ronan Massana; last year, it was center Chance Comanche; this year, the trend is looking to continue on the shoulders of 6 foot 7 inch forward Ron Artest III.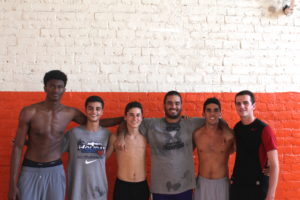 Son of current Los Angeles Laker forward Metta World Peace, junior Artest III transferred to Beverly this year from Palisades Charter High School. Artest III seems to have acclimated well to his new setting in Beverly Hills.
"For the first week, [BHHS] has been cool so far," Artest III said.
However, for Artest III, the end goal for BevBall is clear.
"Winning. [I want to] get as many wins as possible," Artest III said.
Other players on the team are happy to welcome the new player, and senior Matthew Lavi has high hopes for this basketball season.
"I think Ron's going to help our team win CIF this year, and maybe even state. You never know," Lavi said.
Joining a new team could be difficult for many, but Artest III hopes to establish a role on the basketball team for himself early on.
"[I want to] help everyone else win, try to be a leader and push everyone else to not give up," Artest III said.